June 16, 2021
Darlene wasn't sure what to expect, but she decided to take a chance on a new internship program at The New Jewish Home, which ended up opening the door to a fulfilling nursing career.
Fifteen years ago, a high school student named Darlene Corporan accepted an invitation to participate in what was then a new internship program at The New Jewish Home. That decision that led to a career she loves, in a workplace that truly feels like home.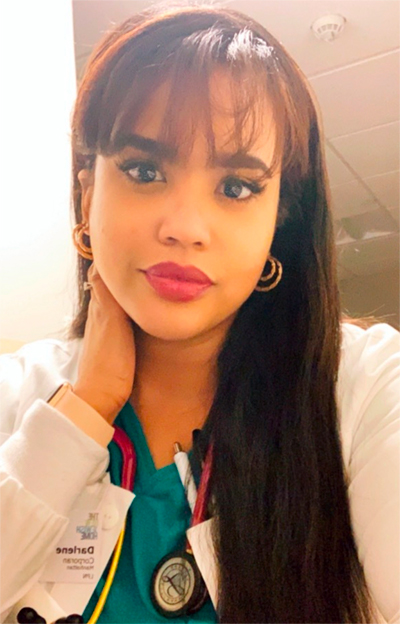 Raised in the Bronx by immigrant parents from the Dominican Republic, Darlene is the only member of her family who has graduated from college. Though she wasn't always interested in healthcare she chose Marie Curie High School for Medicine, Nursing and Health Professions because it was a good school and her parents wanted her to stay close to home.
"We had to participate in an internship starting in the 10th grade—you could choose a nursing home, labor and delivery unit, or other options," Darlene explained. Once again, proximity was the deciding factor. "Because the nursing home option was close to home, my parents guided me to choose that."
Darlene was somewhat hesitant at first—she had no experience with older adults. "I was very nervous at first. Now I have a soft spot in my heart for older people."
In 2006, she became a member of the first cohort of The New Jewish Home's Geriatrics Career Development program (GCD), a close-knit group of 15 students who had many opportunities to engage with the nursing home residents. "We were sometimes assigned to meet the older adults up on their units and escort them to the auditorium for activities. It was therapeutic for them and for me, as well. It was the grandparent experience I never had!"
GCD helped the interns succeed in school and encouraged them to be ambitious about their future. "Think about it," Darlene said, "we were in an underserved community where you were destined to be a dropout, a teenage mom, a statistic—something negative. GCD provided us with tutors so we could get better grades. I went from C's and D's to B's and then A's. They took us to visit colleges to meet people who grew up like us, who looked like us. They introduced us to different career options. Even if you weren't really interested in healthcare, they helped us individually to find our paths. That was an amazing thing about us being in the very first class of GCD."
At GCD, Darlene developed an interest in nursing. "I could see the difference these nurses make in patients' lives," she said. "On a Saturday I would buddy up with a nurse and she would show me things such as how to feed someone or administer medication. My passion grew from there." She completed the internship and became a certified nursing assistant (CNA).
After working as a therapeutic aide full time at The New Jewish Home for a year after high school, Darlene left to attend SUNY Cayuga Community College. She worked as a CNA at Auburn Community Hospital while earning her liberal arts and sciences degree, then moved back to New York City. "The same week, The New Jewish Home hired me as a CNA. With one phone call, and no stress, I was welcomed back."
She decided to become a licensed practical nurse, and Jewish Home helped her pay for the training. The GCD staff helped her submit applications and prepare her resume. "Jewish Home hired me instantly as an LPN. I am gaining valuable experience on long-term units where LPNs usually work, but also in sub-acute units where RN's usually work. I float everywhere." Darlene is now working towards her RN degree, and she plans to pursue a Master's degree in education.
Olivia Babol-Hunter, The New Jewish Home's Chief Nursing Officer in Manhattan, believes Darlene is a rising star, "From very early on, I have been very impressed by Darlene's drive for knowledge and leadership qualities. Not only am I encouraging her to finish her RN certification, I paired Darlene with a nurse to cover other units as part of her training. In addition to meeting her responsibilities as an LPN, Darlene also assists with infection control, communicating with families and special projects. She has a bright future here at Jewish Home and we are lucky to have her."
"I wouldn't be where I'm at right now if it wasn't for GCD," Darlene said. "GCD and The New Jewish Home have offered me so many opportunities. I see myself here for a long time."
The New Jewish Home's SkillSpring program (formerly known as Geriatrics Career Development program) has helped teens and young adults in New York City pursue careers in health care since 2006. Program participants are immersed in long-term care settings and provide more than 8,000 hours of companionship and clinical care to older adults each year.
Alumni from our GCD programs have access to resources from our Workforce program to help them meet academic and career goals. Learn more about our high school program for teens and our young adult program.