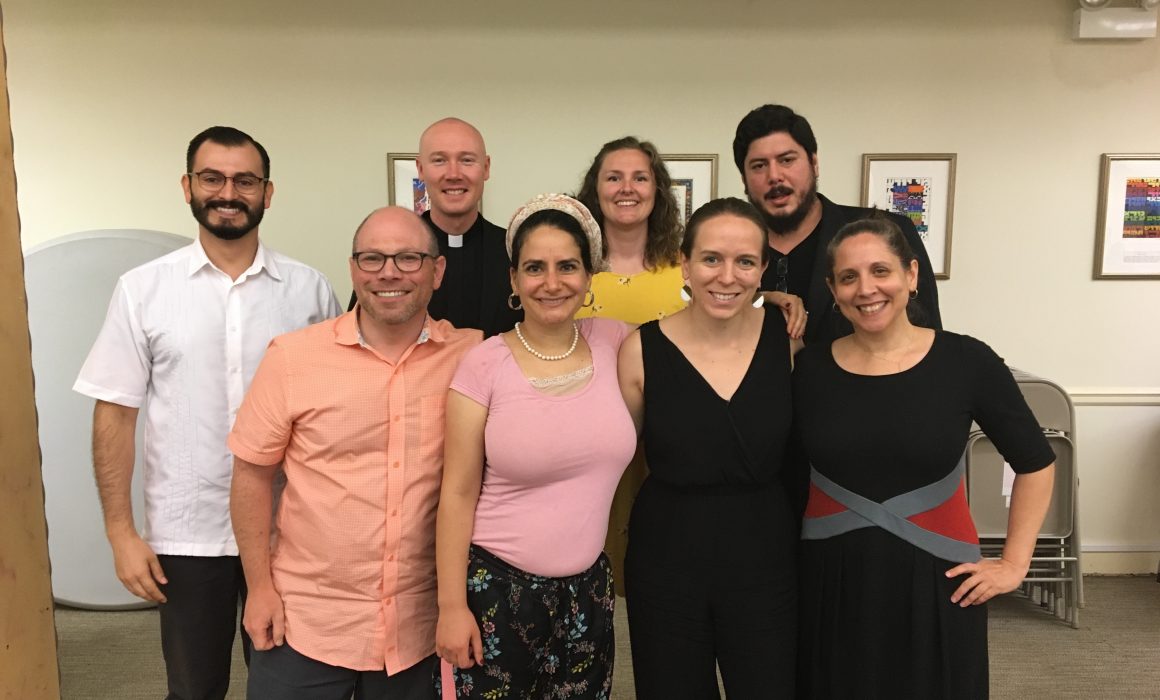 October 23, 2019
"Are you ready to die?"
It was a simple but jarring question and one that the seminarian was really not prepared for. As he sat near the koi pond in our Manhattan campus with a terminal patient, he knew he needed to answer. But how? The student quickly replied that in his religious tradition, he was taught to live every day as if it was his last.
The patient, not satisfied, challenged him, "You're not answering my question. I'm asking if you personally feel ready to die."
The man of faith then realized that he was not there to be a religious expert. What the dying man needed was a mirroring human experience. He needed to make a deep personal connection. He needed honesty. The seminarian gathered himself – and his courage – and admitted, "No, I am not ready."
Gratified, the patient said, "Thank you! That's how I feel, too."
This poignant moment of self-realization and connection was but one of the defining moments for a group of Chaplain Interns I had the privilege to co-teach this summer as part of The New Jewish Home's Clinical Pastoral Education Program (CPE). Run in conjunction with the Jewish Theological Seminary and under the supervision of a Certified Educator, the CPE program trains seminarians, clergy and other professionals – both men and women – to provide spiritual care and compassionate support to our residents and patients who are often facing the end of life. Now in its fourth year at The New Jewish Home, the goal of the rigorous 400-hour program is for the students to become skilled providers of spiritual care and progress towards eligibility for Board certification as Chaplains.
Chaplaincy is often expected in hospitals. I am very proud that The New Jewish Home has become one of very few nursing homes in New York to offer training to chaplain interns and the only one accredited by the Association for Clinical Pastoral Education as a training site for this crucial work.
This summer, our six students, representing an eclectic mix of religious traditions (liberal Protestant, Orthodox Christian, Catholic and Orthodox Jewish), each completed 300 hours of clinical practice at our Manhattan campus and elsewhere in the City, as well as 100 hours of education and supervision.
At an early point in my training, I expected I would learn answers for life's big questions. But in my many years providing spiritual care, I've learned that nothing we can do will conquer death or vanquish people's physical suffering. But what I try to do – and what we teach our students – is that as Chaplains, we can create a space to witness and provide affirmation, where people can express fears and regrets, pain and hope. It's a non-judgmental place where imperfect people join together and journey side-by-side towards what may come. We don't give answers, we don't push any particular faith or belief. But we can be present for them and help lessen their isolation, hear their stories and reach together for meaning.
Yes, this work is hard on the soul. But over the course of the summer, I watched these future Chaplains and clergy people develop important skills and a reflective awareness of themselves. Time and time again, each student practiced offering our patients a non-judgmental and unhurried ear. They traveled with our patients in their places of suffering, affirming their holiness and enduring worth as human beings.
And the result? Both the students and our residents grew spiritually stronger and better prepared to face the future, whatever it holds.
# # #
For more information or to support The New Jewish Home's Clinical Pastoral Education Program, please contact Rabbi Malamy at CPE@jewishhome.org.