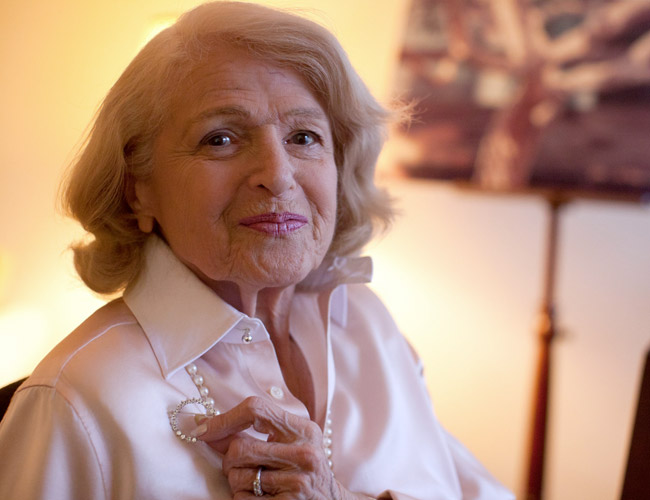 Edith Windsor
Edith Windsor was introduced to Thea Spyer at a restaurant in Greenwich Village in 1963, and their love story would change the course of American history. Windsor graduated from Temple University in 1950. She moved to New York City and enrolled at NYU's Graduate School of Arts and Science. While at GSAS, Windsor worked on one of the country's only UNIVACs—a commercial electronic computer—in the Department of Mathematics, for the Atomic Energy Commission, and as a programmer at Combustion Engineering. After finishing her degree, Windsor was hired at IBM, where she did groundbreaking work on programming languages and operating systems.
In 1969, due to the Stonewall Inn riots, Windsor began a second career as an activist, volunteering for many local gay organizations. Windsor left her career at IBM in 1974. Three years later, Spyer was diagnosed with multiple sclerosis at the age of 45.
In 2007, Edie became Thea's wife at a ceremony in Canada, where they exchanged rings before Canada's first openly gay judge. Two years later, Spyer passed away. At the time, their marriage was not legally recognized by the U.S. as a result of the Defense of Marriage Act (DOMA). Windsor was required to pay substantial state and federal estate taxes because they did not have the same rights as heterosexual married couples. Windsor would go on to fight this injustice, bringing her case to the Supreme Court with United States v. Windsor. On June 26, 2013, the Court declared Section 3 of DOMA unconstitutional. Windsor's love, dedication, and persistence legally redefined marriage as a devoted partnership between two people who love one another.
In 2010, SAGE awarded Windsor the Lifetime Achievement Award. She has also been honored with the ACLU Medal of Liberty, the Marriage Equality New York City Council Award, NYU's Presidential Medal, and most recently, the American Constitution Society paid tribute to Windsor "in recognition of [her] belief in the vitality of the U.S. Constitution and its fundamental values." She was recently a finalist for Time magazine's "Person of the Year."