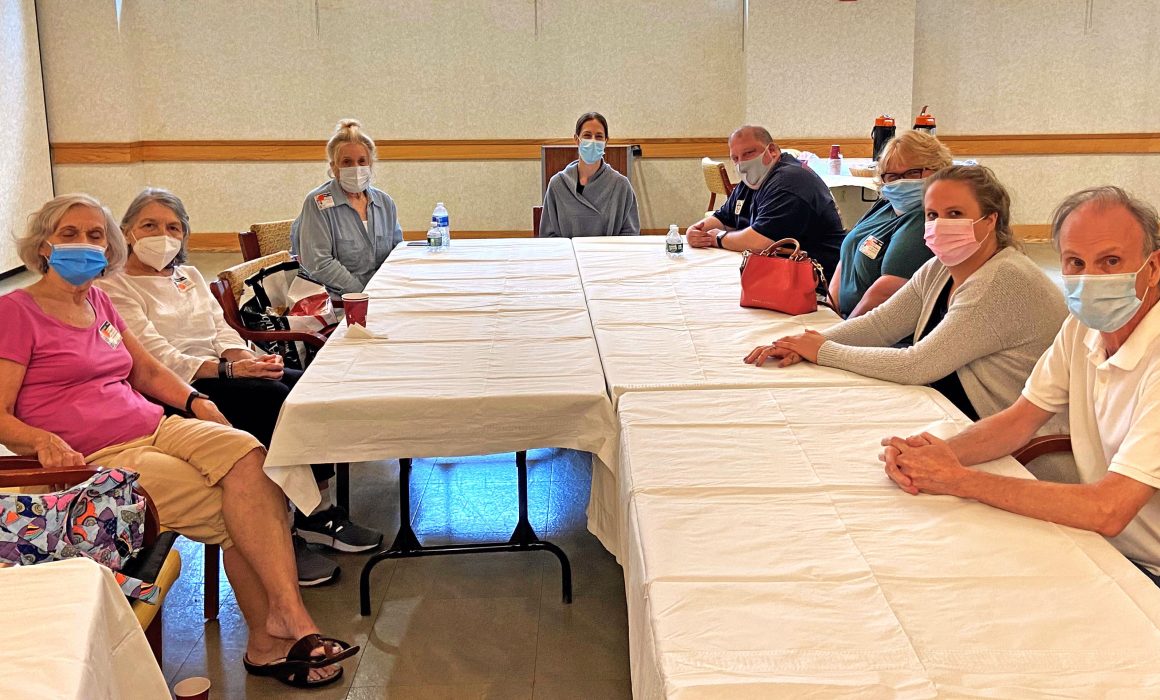 October 15, 2021
Social worker Pamela Walsh leads a monthly support group at The New Jewish Home's Westchester campus, where family members of nursing home residents can share stories, answer each other's questions, and be part of a community.
Once a month, family members of nursing home residents at The New Jewish Home, Sarah Neuman in Westchester gather to support each other and talk about whatever is on their mind. They meet in person when they can; on Zoom when that's not possible. They share the good and the bad, providing each other with comfort, support, and community.
For the past three years, the group has been led by Pamela Walsh, a social worker who is primarily responsible for the dementia care unit. Pamela, who works with residents and families, finds her job rewarding. "I enjoy it immensely, being the connector between families and residents, providing them with information and updates—especially during the pandemic, when they weren't able to come to the facility. It's quite meaningful to be of value."
Pamela worked in advertising and marketing before changing careers and becoming a social worker. "Then, I was a stay-at-home parent for many years before I got a job as a part-time social worker on this unit," she said.
The monthly family support group was already in place when she arrived, created by the previous social worker. "It began as a group for families of dementia patients, but it widened to include anyone with a family member in a long-term care unit. Everyone in the building has an opportunity to be part of a community. It's nice to see the connections they make."
Pamela facilitates the group but takes a back seat, empowering the family members to direct the discussion. "I sometimes talk about community resources," she said, "but the people who come are really just happy to meet other people, hear their stories, and ask the questions they don't know who else to ask."
The group provides participants with a lot of emotional support. "We do a round robin, with people sharing their stories. There are connection points, that sense of I've been there, that's so valuable."
One topic that comes up repeatedly is the difficulty of striking a comfortable balance. "People feel they should visit their loved ones every day, and they feel guilty about taking time away. More seasoned people repeatedly recommend taking time for yourself, easing up on daily visits. Hearing that from someone walking in those shoes is more valuable than hearing it from a social worker like me."
Even when the group transitioned to Zoom, Pamela said it remained popular, and in fact it was possible for even more people to participate. "Zoom helped connect people in an intimate way, perhaps even more than in person. And people could hop on from all over the country." It was a time when family members especially needed the support, too. "During COVID-19, there was such a sense of panic—they felt their loved one was safe, but they were so upset about being isolated in their homes themselves, and they expressed sadness at the situation."
The group is a mix of regular members who return monthly, she said, as well as a sprinkling of new people. Pamela talked about the benefits newcomers derive from talking to people who have had family members at Sarah Neuman for a long time.
"It's one of the most difficult things family members go through, placing someone in long-term care, and I'm happy to facilitate a space where they can support each other. It can be challenging for participants to talk about their experiences, so we make sure to create a safe space for them to open up. The group members say they feel good about coming to a place and talking about what's real."
If you are interested in being a part of the support group for long-term families at Sarah Neuman, please reach out to Pamela Walsh at PWalsh@jewishhome.org or call 914-864-5663.
The New Jewish Home has a proud legacy of empowering older adults to live with purpose and enhanced well-being. We've been around since 1848 as one of the nation's first nursing homes, and now serving older New Yorkers of all backgrounds through a portfolio of health care services, including post-acute care and rehabilitation, skilled nursing, adult day care, assisted living, and at-home care. See how we continue to elevate health care for older adults through our Research Institute on Aging and our SkillSpring program (formerly known as Geriatrics Career Development program), which empower teens and young adults to begin careers in health care