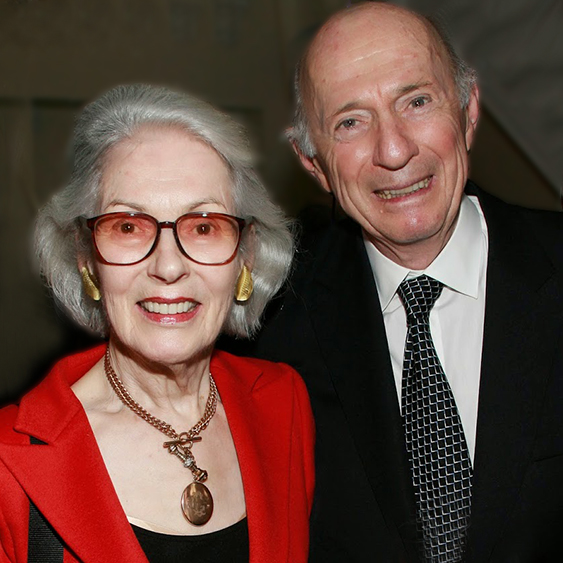 Barbara and Donald Tober
Barbara Tober is President of Acronym, Inc., a firm which invests in art related projects.  These have included THE GUILD Publishing Company, a publisher of sourcebooks for design professionals to help artists find greater markets for their work, and GUILD.com, an ecommerce and catalog company that connects artists and their work directly to consumers. Acronym, Inc. also funds educational arts projects for children nationwide such as the successful Quilts Across America.  Mrs. Tober serves on the Advisory Board of CODAworx, a global online community that showcases and celebrates design projects featuring commissioned artwork.  After 15 years as Chairman of the Board of Trustees of the Museum of Arts and Design in New York City, Mrs. Tober now serves as Chairman Emerita.  She also chairs the Museum's International Council. Prior to her career in the world of the arts and craftsmanship, she spent over four decades in the corporate advertising and magazine world, the majority of which was at Conde Nast Publications where she was Editor-in-Chief of BRIDE'S Magazine for 30 years. A prolific author/editor, Mrs. Tober is the author of THE BRIDE: A Celebration (Harry N. Abrams, publisher), and produced during her years at BRIDE'S over a dozen wedding standards, including The BRIDE'S Book of Etiquette, Questions and Answers About Love and Sex, Wedding Nightmares, and a host of "how-to" books, cassettes, etc. on weddings and marriage. Most recently, her articles include "Crafts and the Passion of Making," published in Dutchess Magazine, 1995. "The Nobility of Beauty" is her introduction to the book OBJECT LESSONS, published in 2001. Barbara Tober appeared as a spokesperson for the $32 billion wedding industry on numerous television and radio talk shows, and has been profiled and quoted extensively in the print media. Her credits include The Today Show, Good Morning America, CBS This Morning, Joan Rivers, Sally Jessy Raphael, Jenny Jones, Live with Regis and Kathie Lee, CNN's Sonya Show, ABC's Entertainment Tonight, The New York Times, Newsweek, USA Today, People Magazine, U.S.News and World Report, Los Angeles Times, New York Daily News, Manhattan, Inc., Architectural Digest, Gotham Magazine and many others. She has been listed in Who's Who for over five decades, and has served on the Boards of a number of organizations, such as the Women's Forum, International Furnishings and Design Association (IFDA), which gave her their award for excellence in 1992, and The Fashion Group International, where she was President in 1991. She has been a board member of the Women's Leadership Initiative at Harvard's John F. Kennedy School of Government, and has been a member of the Board of Sugar Foods Corporation for the past 38 years. Other awards include Publicolor, 2017; The New Jewish Home '8 Over 80' Award, 2017; Career Transition for Dancers, 2016; LOOT Award for Contemporary Art Jewelry, Museum of Arts and Design, 2015; Visionary Honoree, Lighthouse Guild, 2014; Police Athletic League's Woman of the Year, 2013; Girl Scouts Lifetime Achievement Award, 2011; American Cancer Society Humanitarian Award, 2010; Lifetime Achievement Award Museum of Arts and Design, 2009; Pratt Legends Award for Philanthropy, 2006; BIZBash Hall of Fame — New York City Civic Champion, 2004; Distinguished Women of Northwood University, 1997; American Craft Museum Award, 1993; New York Women in Communications "60 Years of Success" Award, 1984; UJA Federation Award, Bridal Division,1988; and the Traphagen School Diamond Jubilee Alumni Award, 1983 and 1975. Mrs. Tober has traveled extensively throughout the world, and collects works of art by established as well as emerging artists. Her background in design (Traphagen School of Fashion, Fashion Institute of Technology, and New York School of Interior Design) has served her well in her chosen fields. She is married to Donald G. Tober, Chairman of Sugar Foods Corporation, a food manufacturing and marketing company.  She is a member of the Metropolitan Club, Cosmopolitan Club and the Century Association.
Donald G. Tober is Chairman of Sugar Foods Corporation, which manufactures, packages and markets food products to both the retail and foodservice industries. Sugar Foods' widely varied product list includes Fresh Gourmet croutons and other crunchy salad toppings, the N'Joy line of non-dairy creamers and sugar canisters, packaged condiments and many other specialty food products. A graduate of the University of Pennsylvania and Harvard Law School, Mr. Tober practiced law in New York City and then joined Sugar Foods Corporation. Mr. Tober is a former Chairman of the International Foodservice Manufacturers Association, Vice Chairman of the Culinary Institute of America and is presently a board member of the Educational Foundation of the National Restaurant Association.  As Trustee Emeritus of the Culinary Institute of America, he has expanded his involvement in several associations that serve to elevate the quality and appreciation of food and wine in the United States such as the Commanderie de Bordeaux and the Chevaliers du Tastevin.  He is also a co-founder and member of the Executive Committee of the City Meals-on-Wheels program in New York City. His contributions and memberships span a broad range of interests beyond food-oriented activities.  He serves on the boards of the New York Landmarks Conservancy, the Manhattan Institute, the National Dance Institute with Jacques d'Amboise, the American Austrian Foundation for Medical Scholarship, the Committee to Reduce Infection Deaths (RID) and is a long time supporter of Lincoln Center, the Philodoroi Society of the Metropolitan Museum of Art, the Museum of Arts and Design, and The Juilliard School. He is a member of the Lotos and University Clubs in New York City; and the Mashomack and Tamarack Clubs in Dutchess County and lives in New York with his wife, Barbara.