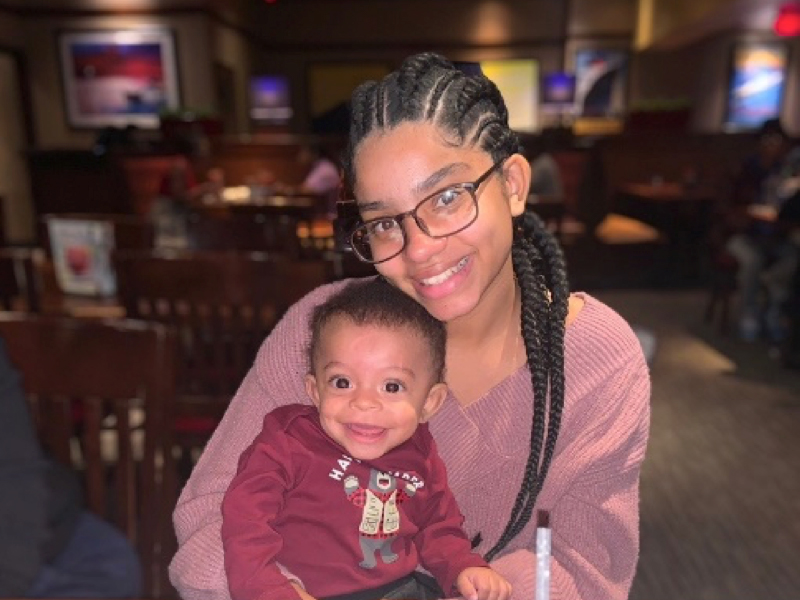 December 10, 2020
Since she was little, Tiana Albino has wanted to be a pediatrician, and she was determined not to let anything get in the way of her dreams. Giving birth to a son at age 19 and becoming homeless seemed like big obstacles, but Tiana wasn't giving up so easily.
And thanks to The New Jewish Home's Geriatrics Career Development program (GCD), she's on her way.
Tiana's plan was to start her career by studying to be a nurse, and after high school she enrolled in the nursing program at Bronx Community College. During her second year there, her son Prince was born. "I stopped going to school to take care of my baby and myself, physically and mentally," she said. Tiana and her boyfriend Masika then lost their housing, and moved to North Carolina to live with Masika's father. She didn't work or go to school for two years.
When the family returned to New York, Tiana wanted to find a way to regain her momentum. She spoke to a career counselor and asserted that she wanted to work in medicine. That's how she found out about GCD.
Tiana applied to GCD's Young Adult Program, for young people ages 18-24 who are out-of-school, unemployed, and facing multiple barriers. It's a free three-month program that engages, trains and supports participants so they can begin meaningful health care careers. She was accepted into the Home Health Aide program, but had to pass up the opportunity because she couldn't find a babysitter for her son. She was disappointed, but she kept in close touch with Casey Linder, manager of the program.
After several months, Tiana was able to find daycare for her son and was ready to start GCD. She applied again and Casey interviewed her over the phone. Then, the COVID-19 pandemic changed everything. Tiana learned that she could study to become a certified nursing assistant (CNA) instead of a home health aide, and that the classes were online. She was accepted and started her classes.
"I was extremely excited but also tired," she said. Her family was living in a homeless shelter, and her son was a busy, curious toddler. It wasn't easy for her to attend classes, but, she said, "I made sure every day I was on-time and participated. Everybody knew Prince because he would be on the screen smiling or wanting to say hello." Sometimes the internet connection in the shelter was bad, and Tiana had to sit in her car during her classes. When she was late because her life was so stressful, she called Casey to apologize. "I explained to her what had happened, and she just listened to all my problems and didn't judge me. That's the one thing I wanted, for somebody to listen and understand."
After months of on-line classes, Tiana finally had an opportunity to interact with nursing home residents during the clinical phase of the program. "It was great to be able to meet the patients, but I was nervous — I wasn't sure I was ready to help care for residents. Casey reassured me. I took vital signs, changed residents, and gave partial bed baths." The residents made her feel welcome. "They wanted me to talk to them. I braided the hair of one resident. There was one resident I sat with every day for 5 or 10 minutes, and she gets so excited every time she sees me. These people feel like my family. They always want me to come back."
After each experience working with residents, Tiana and the other participants met with Casey to talk about their experiences — the ups and downs.
"I'm so grateful to Casey for believing in me and giving me a second chance," Tiana said. "It is hard being a mom, and people tell you that your life is over because I decided to have my baby boy at 19. I wanted to prove everybody wrong."
And Tiana did. "I finished my online class with a score of 90 and passed my clinicals and aced my written and skills exam through really hard work and dedication," she said proudly. "I officially became a CNA."
"The program gave Tiana the opportunity to confirm that health care is what she's really interested in and gave her a launching pad," Casey said. "She got hands-on experience and valuable interactions with peers, residents and nursing staff. It was affirming to her that she's on the right path."
Tiana and her fellow participants in the GCD Young Adult program had a graduation ceremony in November. Only six graduates were able to attend, and the event was low-key — with a graduation playlist providing background music, they ate a catered lunch and received their certificates. Each shared a lasting memory from their program experience, and the pride they felt in their achievement was palpable. "We could have just been sitting in an empty room and it still would have felt meaningful," Casey said. "They know that they've accomplished something important. I know they are especially proud of the fact that they did this in such a unique way, unlike any other cohort, which really distinguishes them as a group."
Having earned her CNA license, Tiana has not given up on her dream of being a pediatrician. "This is a stepping stone for me," she said. "When I work with the elderly, I know I need to provide extra care because they are fragile. Though my ultimate goal is to work with kids, I know working with different populations will help me. I'm not going to stop here, though, I want to be an LPN, an RN, and ultimately a pediatrician."
She has a message for single moms like herself: "If you have a dream, don't give up, don't listen to the negative people in your life. Focus on those who will motivate you, and want you to work harder than ever. You may not know me, but I believe in you, so don't ever give up."
---