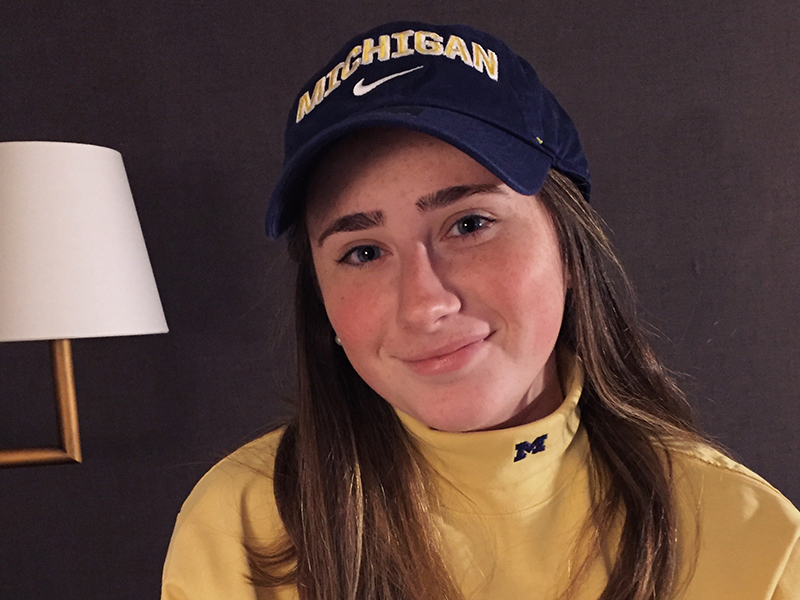 March 16, 2021
Ariana Schwartzberg, a student intern working at The New Jewish Home's COVID-19 Recovery Unit in Manhattan, serves as a critical link between patients and their families in this facility, which is one of the few to receive this designation by the New York State Department of Health to exclusively care for patients with COVID-19. She is "a breath of fresh air," says Manhattan Administrator Sandra Mundy, because she cares so deeply and is so helpful to staff and patients alike.
Patients and staff members agree: Ariana is a lifeline. She helps them stay in close contact with each other at a time when regulations do not permit face-to-face visitation in our COVID-only facility. (Our main Manhattan facility opened for visitation on 3/14.)
When Ariana decided to take a semester off from the University of Michigan, she wanted to do something meaningful. Though she was enjoying her internship in the Development department at The New Jewish Home, when the opportunity to do something more hands-on arose, she jumped at it. That's how she became a family-patient liaison.
Ariana serves as a critical link between patients and their families, bringing them news so they can stay in close touch. The information she relays to patients' families is not medical in nature — rather, she may simply take a photo of a patient so their family can feel the relief of knowing they are okay. "Simply sharing that their loved one is receiving rehab therapy, sitting up in bed reading or watching television helps reassure families," she said.
On the patient end, Ariana sees her job as delivering love and support. She does more than just convey messages from families to patients. She is happy to take the time to listen and learn about the patients. She became close with a resident who had just lost her husband of more than 60 years. "They both had COVID, and she didn't have time to grieve," Ariana said. "I went up to help her with her Amazon Alexa device, and I ended up talking to her for an hour. I visited her every time I was in to see how she was doing. I also talked to her family on the phone all the time." She also prints out word searches and crossword puzzles to keep patients busy and active as they recover. And she solicits messages of love from the outside world to brighten patients' lives.
For Valentine's Day, Ariana recruited everyone she knew to send messages to patients. She posted on Instagram and spread the word, sharing a request for messages of hope and love. The messages then poured in from all over — inspiring quotes, children's drawings, and many warm and supportive messages. Ariana blanketed the building with them. In residents' rooms, in the hallway—everywhere you looked, there were loving words. There were even notes of gratitude to health care and security staff.
Ariana plans to pursue a career in public relations and crisis management, and she's gaining valuable experience. "I'm learning communication skills during a public health crisis. Dealing with the patients' and family members' day-to-day issues has taught me how to navigate many different personalities and requests while working with other members of a team."
Sandra Mundy, Manhattan Administrator, recognized right away that Ariana had natural empathy and good instincts. "Ariana cares deeply for the patients and the families," she said. "That helps her to be extremely involved and helpful. On one of her first days, we had a patient who was very anxious. Ariana was able to understand, with very little guidance, what this woman was going through — and connect with her."
Just being a reassuring voice, whether in person or on the phone, is one of Ariana's principal roles. "Families call because they're concerned that they're unable to visit. I can go up and talk to patients and bring comfort to both sides. The residents sometimes feel alone without visitors, but I tell them that their loved ones are thinking about them all the time."