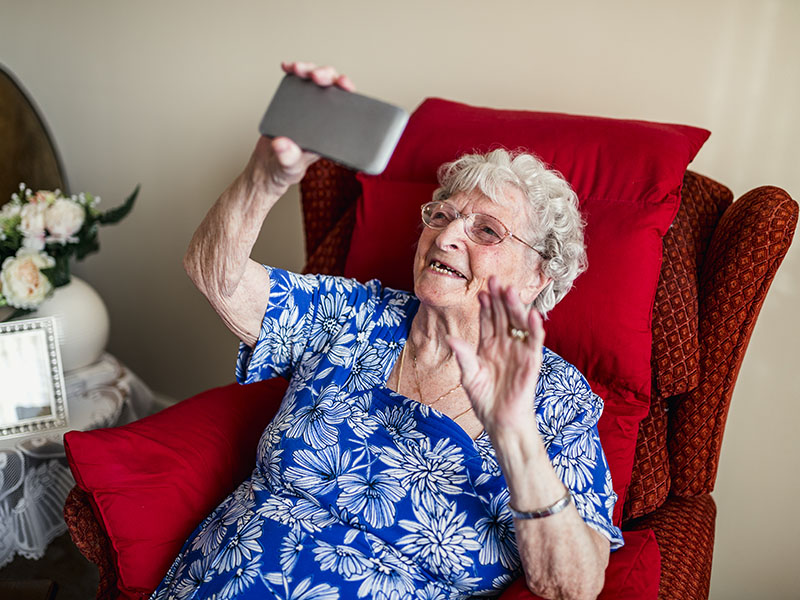 February 12, 2021
In normal times, nursing home residents enjoy a wide range of social activities and companionship, in addition to visits from friends and family. But this pandemic year has been far from normal, with restricted visitation and limited group activities. A pilot program offered in conjunction with DOROT enabled some residents at The New Jewish Home's Sarah Neuman campus in Westchester to take part in a series of friendly phone calls — while getting some much-needed relief from the isolation of the pandemic to boot.
The calls are part of a program created in partnership with DOROT, a nonprofit organization that provides services to older adults, with a focus on fostering intergenerational programs. For decades, DOROT has forged relationships between older adults and volunteers, who ease isolation and help them make connections across generations. During the pandemic, DOROT has launched a new program, Caring Calls, to connect volunteers of all ages with older adults.
So far, DOROT has paired nearly 1000 volunteers with seniors to bring them warmth, conversation and social connection. Five Sarah Neuman residents participated in this pilot program. The volunteers are matched with residents for phone visits once a week over a four-week period.
Volunteers and residents alike have enjoyed the calls. As one volunteer reflected, "The ability to connect with a senior and learn about their lives and experiences is very enriching. Particularly during this period of isolation, it's refreshing to be able to get to know someone new."
The connections can become very important to both participants. "We each enjoyed our initial call so much last week, that for this second week it was like reuniting with an old friend," one volunteer said. Another shared, "I never expected to develop such a strong connection with, initially a stranger, now a best friend."
"This experiment has been a big success," said Eric Dietz, Director of Therapeutic Recreation and Meaning at The New Jewish Home's Westchester campus. "The volunteers provide friendly conversation and positive social interactions for our residents, who welcome more human connection during this time when visitation has been restricted. I hope we'll be able to expand this pilot program and connect more Sarah Neuman residents with volunteers through DOROT."
For the residents and volunteers in the Caring Calls program, four weeks of calls may not be enough. As one volunteer said, "It was fulfilling for both of us to have someone new to talk to a couple of days a week. We learned a lot about each other and were able to bring energy into each other's lives. I hope to keep talking to her as long as all of this lasts."