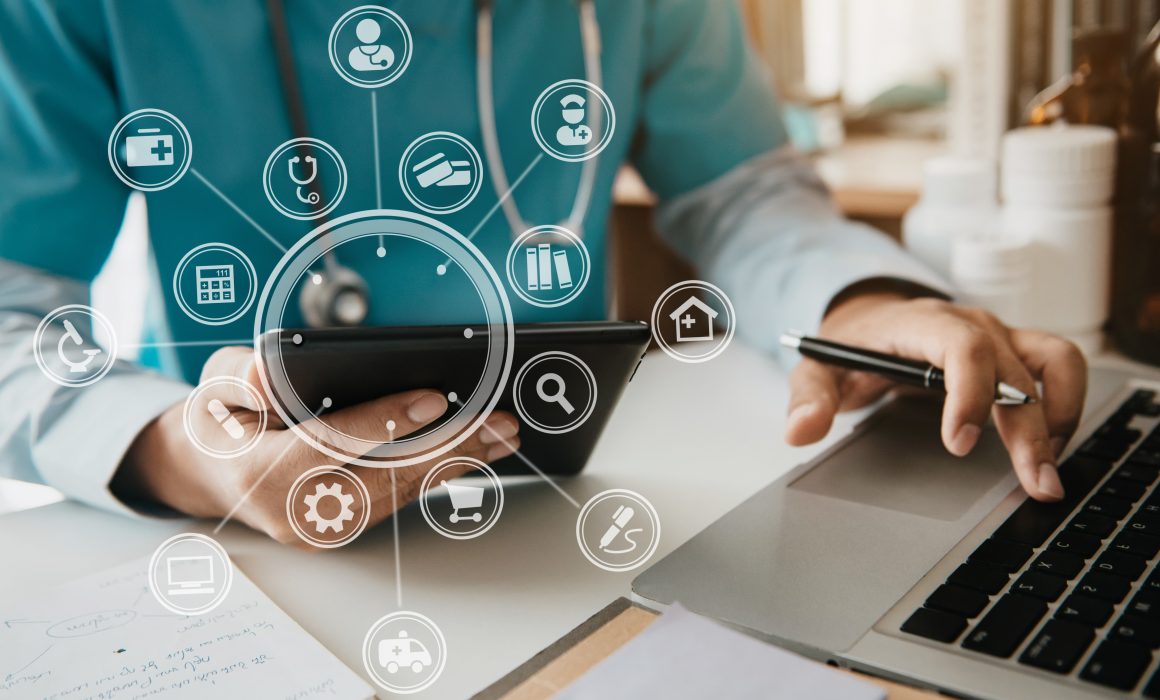 February 24, 2023
The new system enhances experiences for staff and patients alike. Thanks to dedicated staff and careful planning, the transition went smoothly and the new platform is up and running.
As of February 1, it's official: The New Jewish Home has switched to PointClickCare® (PCC), a cloud-based electronic health records platform that connects our care, services and financial operations. All patient information, including admissions, medical history, medications, emergency contacts, billing, and more, has been transferred to PCC.
This transition was made possible thanks to New York City Council Member Shaun Abreu, who awarded The New Jewish Home, as part of the Council's capital discretionary funding, $350,000 for fiscal year 2023 to support our new electronic health records equipment.
Built around a value-based care model with a focus on improving quality and outcomes, PCC gives clinicians immediate, point-of-care access to in-depth, real-time insights at every stage of their patient's journey. "For our excellent nurses, PCC is a tremendous assist as it frees up time to focus on what they do best—deliver care. The greatest beneficiaries are our residents and patients, because their care will be enhanced," said Yaffa Ungar, Manhattan Assistant Administrator.
What makes PCC such a powerful and useful tool?
Overall, the system is easy to use and intuitive. It's designed expressly to support the everyday operations of a skilled nursing facility. As Yaffa explains, "When a patient arrives, the nurse starts a clinical nursing admission note, and the system automatically produces the relevant information to populate other forms. The 'smart' assessment links key fields to customize the patient's plan of care. Each user has a custom dashboard that delivers key metrics and reports in real time so that members of the patient's care team can stay up to date at all times." It also allows for improved efficiencies in medication management and dedicated features that enhance home health care services post-discharge.
Another important feature of PCC is its ability to produce sophisticated reports, a role that was previously tasked to internal and external data analysts. PCC has it all at our fingertips, clinical and financial," Yaffa says. "And the data we enter kicks off analytic reporting."
Moving a large health care system to a new software platform is a huge undertaking. It's essential that all the information upon which the medical staff and administrative staff depend be transferred smoothly, with no gaps in service.
In January 2023, after months of planning and strategizing, PCC was introduced to Jewish Home staff. End users, including all physicians, nurse practitioners, nurses, CNAs, LPNs, dietitians, social workers, pharmacists, activity staff, and clerical staff, began their training. Additionally, all resident orders were migrated to PCC, including medication and treatment orders, advanced directives, consults, and diet. A dedicated workgroup of seven nurses, with a specialized work plan, was charged with making sure that massive order entry was completed in time for the February 1 clinical rollout.
All Jewish Home staff who are responsible for various aspects of patient care have now been trained on how to use PCC, but the education process is ongoing. Staff will continue their training to achieve intermediate and advanced levels, which will optimize clinical and financial outcomes.
On the financial side, PCC brings improved accuracy at lower cost. Angela Bayarovich, Director of Revenue Cycle Management shares, "Everything you do in PCC is time stamped, which aids workflow and makes follow-up easier. There are templates for all the documents we need, and e-sign and docu-sign features are already built in. PCC is very user friendly and intuitive, and will streamline our billing process, enhancing the efficiency in our department."
"This is a real success story, managing a transition this large in such a short period of time," Yaffa says proudly. "I commend our entire team for their dedication!"
The New Jewish Home has a proud legacy of empowering older adults to live with purpose and enhanced well-being. We've been around since 1848 as one of the nation's first nursing homes, and now serving older New Yorkers of all backgrounds through a portfolio of health care services, including post-acute care and rehabilitation, skilled nursing, adult day care, assisted living, and at-home care.