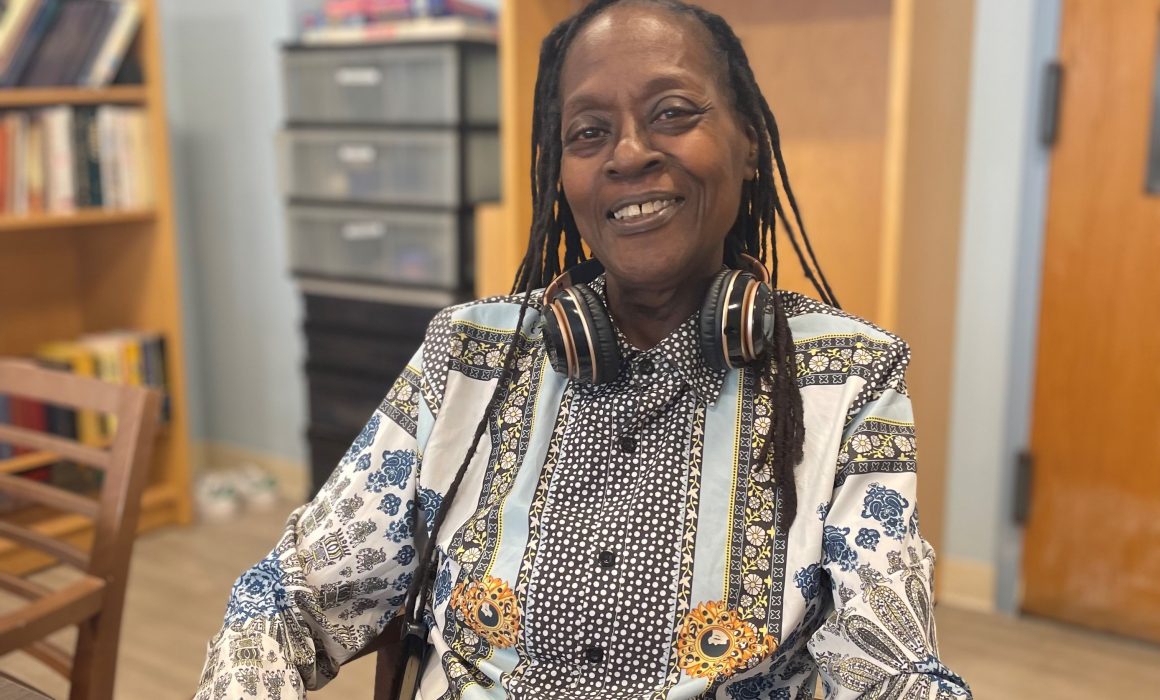 June 12, 2023
An inspiring LGBTQ+ participant with a passion for helping others finds a welcoming community at The New Jewish Home's Adult Day Health Care program.
During the worst of the COVID-19 pandemic, adult day care programs throughout New York State were required by the Department of Health to close for more than one year. Since then, The New Jewish Home's Adult Day Health Care Program remains one of the only medical model programs to reopen in Manhattan, and longtime participant Renee Lynn Oliver is grateful to be back.
At 52, Renee was diagnosed with multiple sclerosis and left her career as a chef. She joined Jewish Home's Bronx Adult Day Health Care Program in 2017 to receive intensive physical and occupational therapy. She was surprised to find a vibrant, welcoming community offering a wealth of activities, including horticulture therapy, pottery, and therapeutic massage.
After the Bronx program closed in March of 2020 due to the COVID-19 pandemic, a number of its staff and participants, including Renee, joined Jewish Home's Manhattan program once it reopened in September the following year. She explained, "I trust this team—no one ever treated me like I was different because I'm gay. Believe me, I've had plenty of negative experiences where that wasn't the case. Here, they don't even treat me like I'm a client, they treat me like a friend."
As a health care system led by its core values of embracing diversity and affirming dignity, The New Jewish Home has had a longstanding partnership with SAGE, Advocacy and Services for LGBTQ+ Elders. SAGECare has awarded Jewish Home platinum status for its commitment to providing cultural competency training to staff to create a welcoming environment for LGBTQ+ older adults.
Renee shared how difficult it was when COVID hit: "All of a sudden, I felt completely cut off. I live alone and it made me realize how much the program meant to me. It's important to have a tribe or community. You can't do everything on your own." To help combat the isolation she felt when the program closed, Renee thought hard about identifying activities that helped her feel fulfilled and gave her life purpose.
She revealed, "During the AIDS crisis in the 80s, I was very involved in advocacy and volunteered at ACT UP and GMHC. I did everything I could to try to get services for friends dying of AIDS, but there was so much fear and discrimination back then. Everyone deserves to die with dignity, so I cared for some friends at my apartment until they died." Renee's experience led her to get trained and work as a Certified Nursing Assistant for seven years.
Renee is now following her passion to help others by studying to become a medical advocate, focusing her efforts on serving under-resourced, marginalized communities. She enrolled in Empire State College and is on her way to earning a multidisciplinary bachelor's degree in Health and Wellness, with a concentration in medical advocacy. "Throughout the pandemic, I saw so many people in my area refuse the COVID-19 vaccine because they don't trust the system. I want to help change that."
Despite Renee's full plate, she plans to continue to come to the Adult Day Health Care Program for the targeted therapies that help her walk, and to deepen the strong relationships she's built with her peers and the staff. "Being here picks up my spirits. I feel respected and accepted."
When she expressed interest in participating in the NYC Pride March in June, Renee learned that she could march with the residents and staff of The New Jewish Home. She marveled, "Wow, Jewish Home participates every year? You are all leading the way in embracing people like me and it's wonderful."
Renee Lynn Oliver shared her inspiring story at The New Jewish Home's Eight over Eighty gala on May 31. The New Jewish Home's Adult Day Health Care Program plans to launch specialized programs to meet the needs of LGBTQ+ older adults, in partnership with SAGE. In July of 2023, we will reopen our Adult Day Health Care Program in the Bronx.