July 22, 2021
Geriatric Care Managers like Barra Bernstein simplify and streamline the process of helping older adults age in their own homes.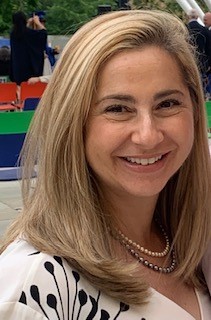 Many older adults prefer to age in their own homes, and with the right supports in place, they can. A home health aide is often a key part of the equation, but family members usually need to fill in the gap. When they can't do it all, a geriatric care manager (GCM) can provide the solution. These health care professionals perform or coordinate the many tasks required to make aging in place successful.
A typical day for Barra Bernstein, a GCM in The New Jewish Home's Solutions at Home program, takes her from her office in Manhattan to clients' homes all over the city. She might conduct a safety check in one home, check supplies in another, bring petty cash to a home health aide in a third for incidentals like buying groceries, tipping a delivery person, or filling a laundry card. Back in her office, she'll speak with family members, healthcare providers, pharmacists, and lawyers, coordinating many facets of her clients' lives.
GCMs like Barra oversees all aspects of their clients' well-being at home. They often have training in gerontology, social work, nursing, or counseling, and they have extensive knowledge about local resources for older adults.
Barra keeps in touch with some clients once a week to make sure everything is going smoothly. In other cases, she is on site frequently and performing essential tasks every day. She can arrange everything from home safety to medical appointments, help with Medicaid forms, and get groceries delivered. She can hire or supervise home health aides. She updates family members on appointments and medications, and she goes through the mail to make sure bills are paid. In one case, Barra recalled, she even helped figure out how to deal with a patient's deceased dog.
Michael, who lives in the Bronx, is one of Barra's clients. "Barra helped me to get new reading glasses, placed some book orders for me, and filled out my Medicare application so that I can get health care coverage," he said.
Another client is a woman with advanced dementia, who has no relatives at all. Barra was hired by a guardian who is responsible for the woman's health care proxy and financial decisions. "I go there every week to coordinate with the home health aides, order supplies, and arrange for groceries," Barra said. "This client was recently diagnosed with pneumonia, and I arranged for a portable x-ray to be sent to her home, so she could get tested. I also called her occupational therapist to make sure they didn't come to her home until she was well."
Barra often provides emotional support to families. She mentioned another client whose daughter manages her mother's medical issues but has a complicated family of her own. "I'm a sounding board for the daughter. She shares with me the emotional hardship she experiences as she sees her mother deteriorate," Barra said.
When Barra is assigned a new patient, she begins by examining the home environment. "I make sure there's a smoke alarm, no rugs to trip on, that the patient can make their way to bathroom and that any needed adaptive equipment is there—bath rails, bed rail, hoist. I see what medications they are on. I might contact their doctor, to get a sense of the patient's condition."
Barra began her professional life in fundraising at a New York hospital, but decided quickly that she wanted to work with people, and got her social work degree in her late 20s. "I was inspired by the gerontology classes I took with a wonderful professor, and I decided that I wanted to work with an aging population of baby boomers. I had a wonderful relationship with my own grandmother and sadly watched her decline. I saw how older adults are often treated as second-class citizens." After taking some time off to raise her children, she was hired at an agency that provides GCMs. After ten years there, she moved to The New Jewish Home just recently, bringing valuable experience and a passion for helping older adults.
A GCM like Barra can be the secret ingredient that makes the recipe for aging in place work. She brings experience, dedication and compassion to the everyday tasks that make an older adult's home a comfortable and safe place to age.
Geriatric Care Managers work with individuals and families, making regular visits to provide assessment, emotional support and coordination of services, resources, and ongoing monitoring and management to individuals in their home. GCMs develop a plan of care to meet the family's needs, coordinate all service needs, including home health services, nutrition consultation, physical or occupational therapy, hospice care. They also collaborate with hospital admissions and discharge planners, medical providers, attorneys and financial planners. 
The New Jewish Home's Solutions at Home® ensures seniors have the care and support they need to stay safe and healthy at home – providing loved ones with valuable peace of mind. Our dedicated geriatric care managers take care of it all, coordinating home health aides for long-term support or nursing and rehabilitative care to help patients recover from illness or surgery. Contact us to learn more about The New Jewish Home's Solutions at Home.