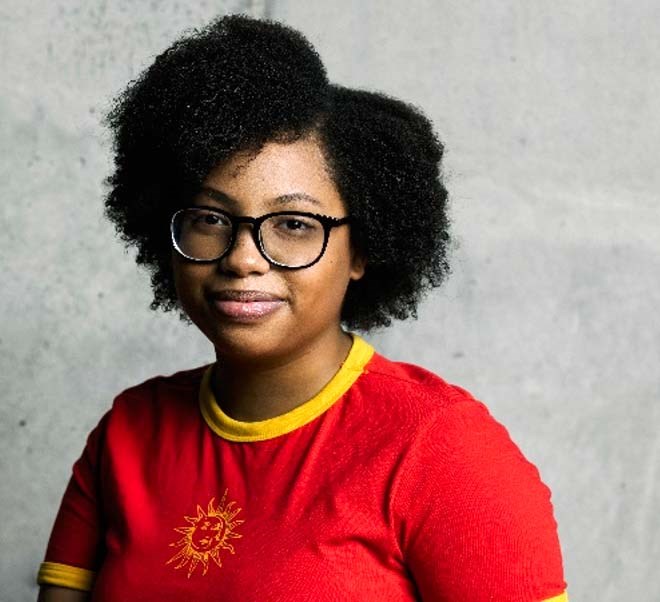 May 13, 2022
Carmen dreamed of being a Broadway performer, not a health care professional. And then the Geriatrics Career Development Program changed her course.
When she was a sophomore at DeWitt Clinton High School in the Bronx, Carmen's guidance counselor talked to the whole class about a special internship opportunity at The New Jewish Home. The Geriatrics Career Development (GCD) Program is a workforce development program that exposes young people to health care careers, and Health Care Explorers (HCE) is the track for high school students.
Even though she was already busy with schoolwork, acting, French club, cheerleading and student government, Carmen decided to apply. As a child of a single mom who immigrated from the Dominican Republic, Carmen welcomed opportunities that would help her further her education.
Carmen wasn't sure what to expect. What she found was a community of respect and support, a source of wisdom, and a new plan for her future: she now has her sights set on a nursing degree.
"Working with the older generation," she said, "I was terrified! They are just so fragile. I never really had been around older people to know how they are as a community. The more I got to talk with the residents, I realized they are just like me but wiser, and I can learn a lot from them."
When Carmen and her cohort began the program in the fall of 2019, they were split into two groups, which met in person at The New Jewish Home's Manhattan and Bronx campuses. When the pandemic forced the program to go virtual, she said, "We all got to know each other." That was the only silver lining of Zoom instruction. "Doing it all through Zoom—prep for the Certified Nursing Assistant (CNA) exam, college prep—was very difficult.
It was a relief when they had the opportunity to be in-person for a few days that summer to learn some hands-on skills.
These days, in Carmen's senior year in high school and final year in Health Care Explorers, the program is hybrid. "We're in-person every other week," she said.
The program offers students much more than skills training, and Carmen benefits from every opportunity. "When people who work in hospitals and other health care areas come to talk to us, I email them and ask them to be my mentors, so I can learn what it's like in the real world." She also participated in all the college readiness programs, from SAT prep to help with college applications.
All her hard work paid off. Carmen was accepted to Wheaton College in Massachusetts, a small private college that offers a Liberal Arts/Nursing major for students who plan to enter a nursing program after graduation.
And she had some other exciting news to share. The program staff nominated her to become a Posse Scholar, a prestigious national college scholarship that targets young adults with leadership potential and pays full tuition at private colleges. More than 3,000 students were nominated in New York alone—and Carmen was chosen.
With an exciting future on the horizon, Carmen is deeply grateful to the GCD program for preparing her to succeed in college and beyond. As she learned from the program, she said, "The most important thing is not to be afraid, to speak up when you have a chance. To be sure you're doing as much as you can. There are opportunities everywhere, you just have to look for them." 
The New Jewish Home's SkillSpring program (formerly known as Geriatrics Career Development program) has helped teens and young adults in New York City pursue careers in health care since 2006. Program participants are immersed in long-term care settings and provide more than 8,000 hours of companionship and clinical care to older adults each year.
Alumni from our GCD programs have access to resources from our Workforce program to help them meet academic and career goals. Learn more about our high school program for teens and our young adult program.