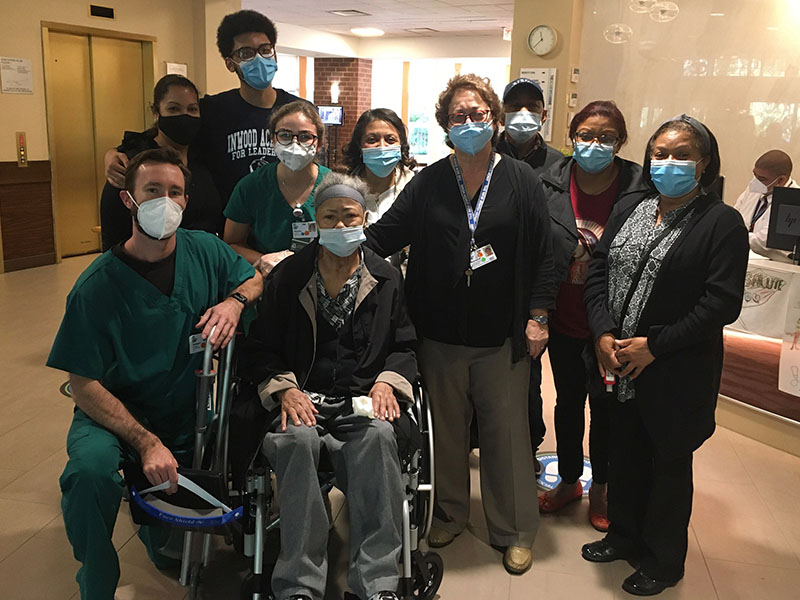 October 22, 2020
Marlene Konopolsky, who runs the Social Work Transitions program on our Westchester campus, provides expert care from the moment patients arrive for heart rehabilitation to three months after they are discharged home. "I'm essentially their care navigator for the next 12 weeks."
A clinical social worker who has additional training in congestive heart failure, Marlene works with frail, chronically ill patients with various cardiac conditions who were admitted for short-stay rehabilitation. With the goal to reduce emergency room visits and re-hospitalizations, Marlene provides education and monitoring to help stabilize this medically complex group of patients. She has become an invaluable one-stop resource for these cardiac patients and their families, guiding them throughout their stay and during their transition back home.
"I'll make sure they have all their medication," Marlene said. "If they need transportation I'll make those arrangements. I get involved with various agencies if the patient needs Medicaid, counseling services, legal help, advanced directives, or access to doctors." She'll even take on housing issues. "If a patient's condition worsens at home, in most instances, we are able to bring the patient back to our facility instead of the hospital."
How the Program Works
When patients with cardiac conditions are admitted after a hospitalization, the staff determines whether they are appropriate for the Social Work Transitions program. Marlene is involved in their care plan and makes sure their needs are met. She arranges and plans for their discharge, making sure they get all the equipment they need and coordinates their home care. She makes contact with the patient's primary care physician as well as the cardiologist to ensure that an appointment is made within a week following discharge. While Marlene previously made home visits; these days she is more likely to drop in via phone or FaceTime.
The Patient Experience
Raymond Piedmont was a Social Work Transitions patient last year. He has been treated at The New Jewish Home's Westchester campus several times, and his last discharge was in October 2019. "I had been laid up so long I forgot how to walk," he said. "The people there were absolutely wonderful. Without them I wouldn't have been able to do the things I'm doing now. I can walk without a cane."
Marlene was there for him throughout his stay and beyond. "She would pop in once in a while to ask, do you have any questions? Is anything I can do for you? Whenever there was a care team meeting with the doctors, Marlene would be there."
After Ray's discharge, Marlene came to his home several times. "She asked specific questions — do you need this? Are you able to do that? Are you getting around? are you climbing stairs? She was assessing my situation, even without me having to say anything."
Over the past few months, Marlene has worked with post-COVID patients who received rehabilitation therapy. One of her patients, Vinicia Rosario, was recently discharged. "She was with us from the beginning, and she was very attentive," said Vinizia's granddaughter, Cindy Hidalgo. "She answered all our questions. Marlene keeps us in the loop about everything in regard to my grandmother's care. She said, 'I'm your eyes and ears and voice when the team is meeting, since family members can't be there.' She held our hands and guided us through the entire recovery journey."
Marlene is very accessible to patients and families. They can depend on her if an issue arises. "Families are so overwhelmed when they bring a patient home from the nursing home, it's reassuring to know they can just pick up the phone and connect with me," she said.
Just recently, she relates, she discharged a patient on Saturday and readmitted her on Sunday. "I spent a lot of time on the case with the patient's niece, guiding her through the process of readmission and providing emotional support," Marlene said.
Even on weekends, patients in the Social Work Transitions Program and their families can count on Marlene to be there for them. Thanks to this unique program, these patients have access to the expertise of a caring social worker whose commitment to them doesn't end when they leave The New Jewish Home.
Photo: Patient Vinicia Rosario, front row second from the left and Social Worker Marlene Konopolsky to her right with the patient's care team and family upon discharge home