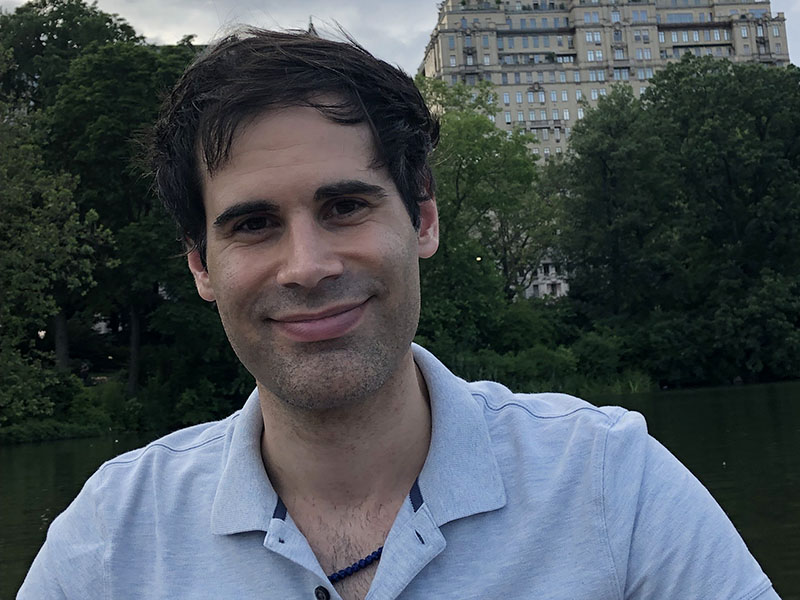 August 13, 2020
Residents and patients at The New Jewish Home have always appreciated chaplaincy visits. During the pandemic, however, these visits evolved to provide deep emotional and spiritual care to meet the needs of our older adult clients. Each year, in conjunction with the Jewish Theological Seminary, The New Jewish Home helps train chaplains by hosting students in our Clinical Pastoral Education Program (CPE). We are one of the few nursing homes in the country to offer training to chaplain interns, and the only one accredited in New York State by the Association for Clinical Pastoral Education as a training site for this crucial work.
"It's a growth experience to develop nursing home chaplaincy skills," said Rabbi Jonathan Malamy, who oversees spiritual care at The New Jewish Home and supervises the chaplaincy fellows. "The challenges to meaningful living that people are contending with can be really profound. You have to knock on someone's door and initiate a relationship, despite the fear of being intrusive. It's also a multifaith experience — you're caring for people across religious differences."
This summer's chaplaincy students faced a different environment than their predecessors, because they could not visit the nursing home in person. The students met with Rabbi Malamy and their Certified Educator on Zoom, and then contacted patients by phone instead of knocking on their doors.
One of the fellows is Alexander Herasimtschuk, who is training to be an Episcopal priest. He graduated from Union Theological Seminary in 2018, and he is currently a seminarian intern at the Church of Transfiguration in midtown Manhattan. He also works as a college instructor and academic counselor at Marist College, Duchess Community College, and Marymount College. Completing Clinical Pastoral Education is part of his ordination requirements.
"Rabbi Malamy and the JTS faculty said, 'We've never done this before, it's going to be a learning experience for all of us.' It was a little scary," Alex said, "but I felt honored to have the opportunity to do something new."
The fellows faced some challenges right off the bat, in simply trying to connect and build trust with residents and patients. They had to be persistent and innovative.
"It was hard to even get someone to speak to us on the phone," Alex said. Through trial and error, he and his colleagues came up with a "really tight script" to introduce themselves and explain why they were calling.
"When you're dealing with isolation, people are grateful for a reservoir of ears and voices that are willing to reach out," Rabbi Malamy said. "That's the fundamental reassurance I try to give to the students. When they're calling a stranger, they need open hearts and thick skin. I encourage them to set aside their worries and tolerate suspicion when they call."
"It's kind of a miracle that we have actually made connections with patients," Alex said. But in fact, once the students got past the preliminaries, they had some very deep conversations.
"I'd ask them, 'How is life?' They would talk about the trials and tribulations of being in isolation. They talked about family, about faith. Some were frustrated that they couldn't see kids or grandkids because of COVID, and they felt cut off. They have no one to talk to, and we were able to fill that void." Once he broke through, Alex spoke with some residents and patients on a weekly or even biweekly basis to check in with them. According to Rabbi Malamy, one patient said her call from a chaplaincy student was her favorite part of the week.
The program encourages the students, when appropriate, to offer prayer to the clients they speak to. "I was really moved at how willing our clients were to pray with us," Alex said. "It's clear that they're trying to make theological meaning out of what's going on in the world." When he spoke with people of different faiths from his own, he said, "I would ask, 'What kind of prayer do you want to say? Is there a prayer from your tradition that you would like us to say together?' I was blown away with how receptive people were, how willing to talk to us across faith lines."
As the program ends, Alex and the other students are learning how to say goodbye to people they've been speaking to regularly for two months. "If COVID were over, it would be easier to say goodbye," he said. "I have a sense of uneasiness with leaving them where they are. We're trying to figure out the best way to conclude this summer in the most meaningful, helpful way possible. We talk about it as a group."
The tele-chaplaincy program this summer was an experiment — and, Alex said, a richly rewarding one. "It was deeply meaningful, and I feel honored to have participated. I learned about joys, trials, and tragedies. It was amazing that they trusted us, sharing intimate details on the phone. It was really an honor to be present for them at that time."
The New Jewish Home looks forward to welcoming a new group of students in the fall to continue this vital work.
Photo: Alexander Herasimtschuk, a student in The New Jewish Home's Clinical Pastoral Education Program (CPE) 
The New Jewish Home has a proud legacy of empowering older adults to live with purpose and enhanced well-being. We've been around since 1848 as one of the nation's first nursing homes, and now serving older New Yorkers of all backgrounds through a portfolio of health care services, including post-acute care and rehabilitation, skilled nursing, adult day care, assisted living, and at-home care.
See how we continue to elevate health care for older adults through our Research Institute on Aging and our SkillSpring program (formerly known as Geriatrics Career Development program), which empower teens and young adults to begin careers in health care.