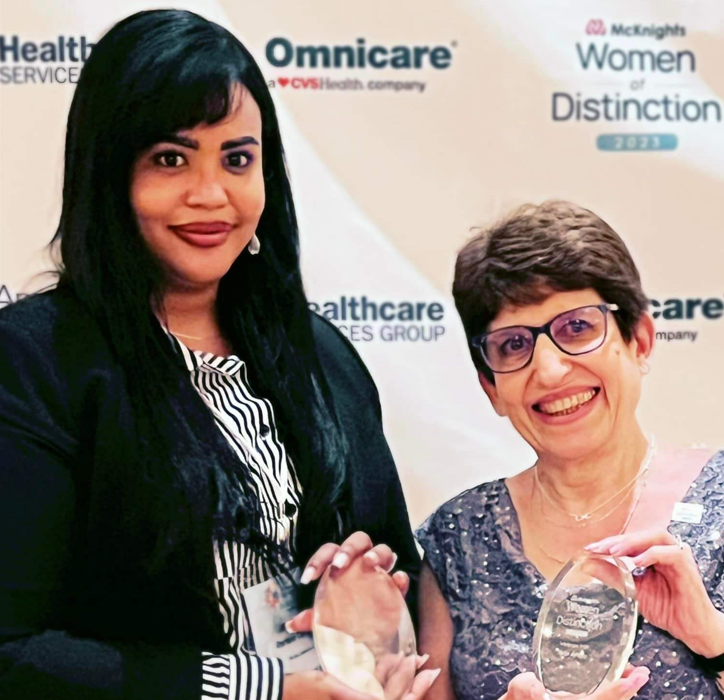 June 15, 2023
Darlene Corporan – Rising Star
Darlene Corporan participated in the SkillSpring program at The New Jewish Home (TNJH) as a high school student, which helped shape her career trajectory. SkillSpring is an innovative workforce solution that addresses the growing need for skilled and compassionate health care workers. After graduating from the program, she became a certified nursing assistant (CNA) and was later promoted to Clinical Care Manager.
Darlene is now working towards her RN degree and has played an integral role in managing quality improvement efforts at TNJH since 2019. She is known for her superb communication skills, dedication, and warmth towards families and residents. Darlene boosts staff morale with her optimism, can-do attitude, and thoughtfulness. In addition, she oversaw non-clinical assistance provided by the National Guard during COVID-19 at TNJH. Darlene is a fire-starter and a difference-maker who is committed to transforming health care. She is valued and appreciated by residents, families, and staff for her work ethic and outstanding care delivery. Darlene is the recipient of the McKnight's Women of Distinction Rising Star Award and is without a question a Rising Star.
Ilene Arroyo – Veteran VIP
Ilene Arroyo, the Senior Director of Human Resources at The New Jewish Home, has worked for the organization for over 31 years, focusing on engaging and supporting its 1,200+ staff to provide optimal care to older adults. Ilene oversees compensation and benefits for the entire system and manages recruitment and labor relations for the Manhattan campus and the Adult Day Health Care program. She builds trusting relationships with union leadership and their delegates and has mentored and championed members of the HR department for over 25 years. Ilene regularly volunteers on weekends to serve as Administrator on Duty, offering hands-on support to nurse managers, residents, and their families. Ilene embodies the organization's values and is admired for her selfless dedication to staff and older adults. She is an exceptional leader who tackles new challenges and thinks outside the box to find solutions. Ilene's ability to anticipate and address the needs of staff, especially frontline workers, stems from her profound respect for the care they provide to residents and patients.
The New Jewish Home offers a range of health care services for older adults with locations in Manhattan, Bronx, and Westchester. Our at-home care solutions empower older adults to receive superior care from the comfort of home. Learn more about The New Jewish Home and see how we've been innovating health care for older adults since 1848.