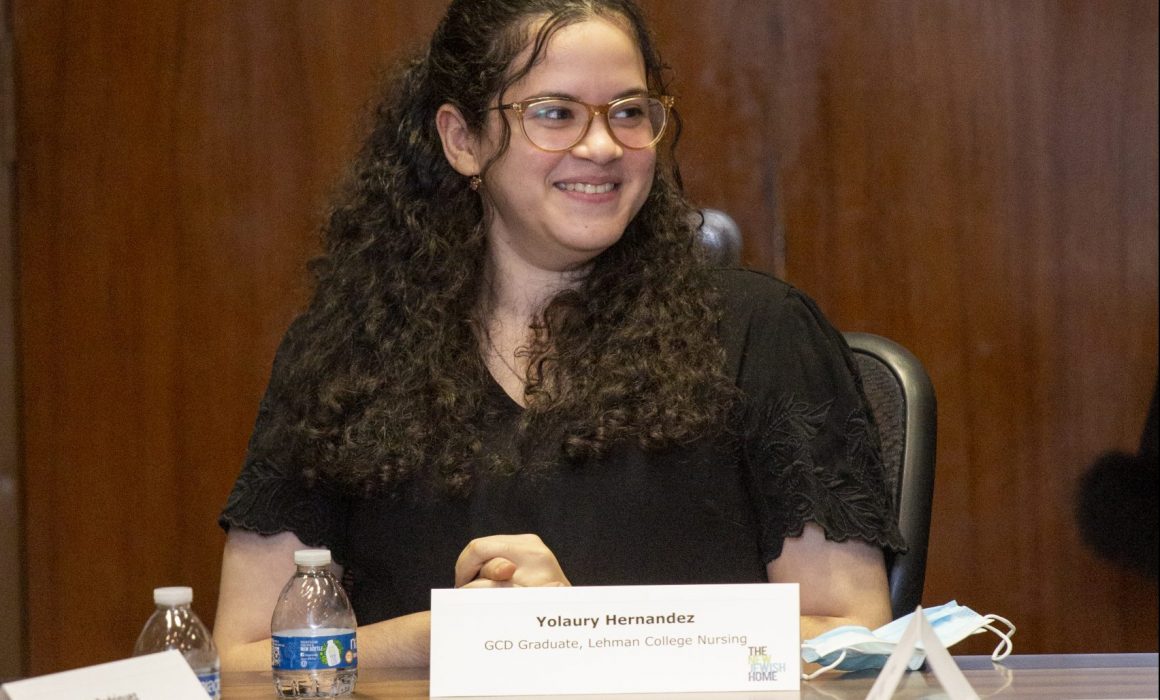 March 21, 2023
Meet Yolaury Hernandez, RN, a successful graduate of The New Jewish Home's innovative healthcare workforce training program. Participating in SkillSpring propelled Yolaury to embark on a rewarding career caring for others.
Yolaury was nine years old when her family emigrated from the Dominican Republic and settled in Washington Heights. "It was very difficult for me," says Yolaury, "I was unable to speak the language and the culture is so different. As I learned English and made friends, it got easier." She was a sophomore at the A. Philip Randolph Campus High School, one of SkillSpring's partner schools, when a teacher encouraged her to apply. Before joining the program, Yolaury had no plans to attend college and expected to work in any available low wage job. "I didn't know what I could do," Yolaury explained. "Being in the program changed me. It helped me understand what was possible and how to get there."
SkillSpring's high school program offers SAT prep, college visits, help with homework, and more to young people who don't have access to these services. They also connect students with resources to help them navigate through difficult times. "I learned so many new things that I couldn't learn at home, like which schools to look into, how to interview, and how to fill out financial aid forms," says Yolaury. "If I had a problem, I knew the SkillSpring staff were there for me."
Students in the program train to become CNAs and interact with The New Jewish Home's residents, fostering intergenerational bonds. "I lost my grandparents at a young age, and I was happy to get to know older adults," says Yolaury. "I loved hearing their stories. Coming from a Hispanic immigrant family, you are always worried about working and money. The residents really encouraged me to enjoy life more and not worry all the time. At the same time, helping older adults, even if it was just brushing their hair, made me feel like I was making a difference and showed me that I wanted to work in health care."
After graduating high school, Yolaury went to Lehman College for two years to gain the necessary prerequisites for nursing school, while working as a CNA at The New Jewish Home. When the pandemic hit, Yolaury worked on the front lines providing lifesaving care to older adults.
She earned a bachelor's in nursing at Lehman College, and is now working as a registered nurse in the medical-surgical unit at one of the city's leading health systems, NYU Langone Health. "I love being a nurse," says Yolaury. "Currently, I am focused on learning all the fundamentals, but in a few years, I may go back to school to get my master's degree and become a nurse practitioner."
Yolaury is so proud of all she has accomplished and encourages other young people to walk down the same path. "Being the first one in my family to go to college was hard but not impossible, thanks to the support of the SkillSpring staff," says Yolaury. "They are the best people ever."
The New Jewish Home's SkillSpring program (formerly known as the Geriatrics Career Development program) has helped teens and young adults in New York City pursue careers in health care since 2006. Program participants are immersed in long-term care settings and provide more than 8,000 hours of companionship and clinical care to older adults each year.
Alumni from our SkillSpring program have access to resources from our Alumni program to help them meet academic and career goals. Learn more about our high school program and our young adult program.