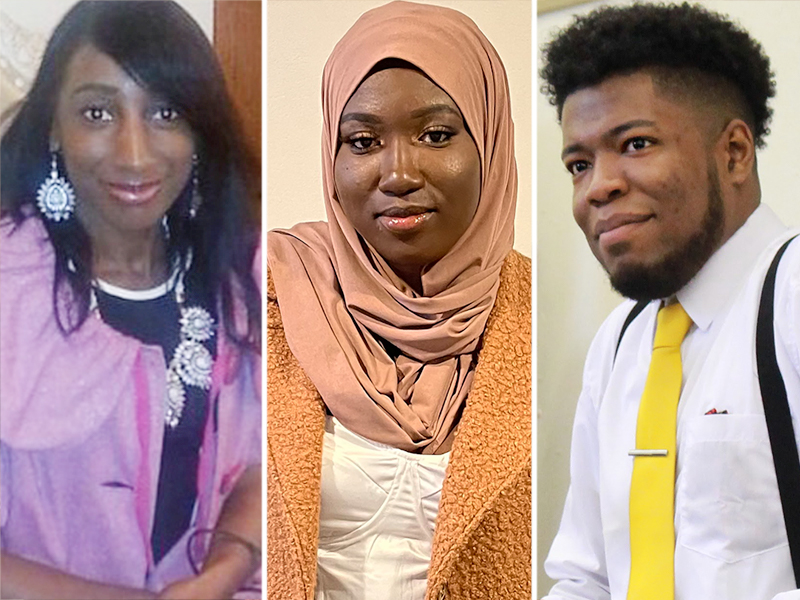 January 13, 2021
Three GCD alumni, who now work as program staff, have discovered a passion for working with teens while developing deep bonds with the students and with each other.
One of the things that makes The New Jewish Home's Geriatrics Career Development (GCD) program so special is the supportive family atmosphere it creates for the participants. In fact, the staff themselves feel like family—and some of them happen to be GCD alumni.
GCD Healthcare Explorers is a social justice program that gives high school students from Harlem and the Bronx a head start in health care careers. The program creates a pipeline of talented staff for The New Jewish Home. GCD also helps participants stay on track so they can graduate, mentors them to help them get into college, and provides training so they can get jobs to help pay college tuition.
Lashima Goshine, Kadija Ceesay, and Richard Burgess, members of the professional team that runs Healthcare Explorers, are all alumni of the program. They were hired as part-time teen advisors while in college, before accepting full-time jobs. Each has now worked on the GCD team for more than five years, moving up the ranks.
As program manager, Lashima said, "I make sure all the components and activities go smoothly. I make sure the staff has the materials they need, and step in on the front lines to help participants, and communicate with parents."
Lashima was in one of the first GCD cohorts, entering in 2006. "I heard about it through Marie Curie High School in the Bronx, which is one of our partner schools now. The college readiness and professional development the program provided was amazing."
She became a certified nursing assistant (CNA). Lashima earned her BA in health service administration as well as an MA in public health.
She worked as a CNA while in college, until she was hired as a GCD teen advisor. "I never knew I'd have a passion for working with high school students," Lashima said. "I have grown to love working with youth and I'm interested in focusing on their mental health, helping them with challenges they face."
One of the students Lashima worked with as a teen advisor was Kadija Ceesay, who is now a program specialist. "I'm the first person a student sees," she said. "I teach them how to write an email, cover letter, a resume. We work on life skills, like what they can expect when they go to college."
Kadija learned about GCD as a freshman at Norman Thomas High school in Manhattan. At first, she said, "I didn't want to do it—more school on top of school! But I signed up anyway." She got her home health aide certification and worked for a year, then came back to GCD part-time while she attended college. When she graduated in 2019, she became a full-time employee.
"I sometimes see myself in the students when I was their age," she said. Like many of the students she works with, Kadija was the first in her family to go to college. She's a role model for them, "or I would like to think so! Now I'm getting my master's in public health at NYU, and I'm more interested in the administrative side, like running a hospital."
Richard, Healthcare Explorers' pre-certification coordinator, helps students prepare to be medical professionals, from understanding the career ladder to mastering skills like bathing and taking temperatures.
Richard's parents are both CNAs, and he always knew he wanted to follow them into the medical field. Back in high school, he said, he was a quiet and shy kid who kept to himself. "One of program staffers taught me, 'don't be shy, you have so much to share.'"
What he got out of the program was, he said, "far greater than I could ever imagine. I practiced my interpersonal skills, working with people from kitchen staff to nursing units to even funders. GCD exposed me to all of it and showed me what was possible."
Soon after Richard graduated from GCD, "the hired me as a teen advisor." He's been working for the program ever since. Richard is currently studying secondary education.
Forging Deep Connections with Students and Each Other
"Our bond has strengthened over the years," Lashima said. "We are able to mentor one another, put ourselves in each other's shoes to lift each other up. When you develop strong partnerships, you can grow yourself and see growth in others."
"My colleagues are like family," Richard said. "Lashima's like an older sister, who offers me good advice and a shoulder to lean on. We have each other's backs."
"Lashima was a staff member when I was in the program, and now she's my boss," Kadija said. "It's part of the reason why alumni reach out to the program and continue to return, the relationships we've built with staff. Students who have graduated reach out to us every day about opportunities."
It's no coincidence that these three talented staff members found their way back to The New Jewish Home after completing GCD. The program has a focus on its mission of keeping its graduates engaged and providing them with employment.
Lashima emphasized the importance of the program's outreach to alumni. "Some programs, you graduate and that's it. Our alumni stay in communication with the program. Someone will reach out to you for employment, or you might need help on your resume. Or you'll come back and talk to students about your experiences and your success."
Richard talked about a student he worked with who was having trouble with the CNA exam. "Test after test, he didn't do well–he wasn't reading the questions carefully. We talked about pop culture all the time, so I advised him to treat this exam as if it was comics, and it helped him succeed." It feels amazing to give back, he said. "I remember being that unconfident, unknowing teenager. Now I can give that confidence to someone else."
Covid Changes Everything
The COVID-19 pandemic has presented many challenges, Lashima said, "but working with our dynamic team, we troubleshoot any mishaps. The programming has changed across the board—we miss getting to see the participants, and going on the floor to interact with the residents and seeing their smiles. There's nothing like being there in person."
She said, "we're seeing a lot of stress—students are being overwhelmed with adjusting to the remote world, being on computer screen all day, then this afterschool program. They are taking on more responsibilities at home and some had to find work to help their parents. We're providing more counseling and linking them to resources. It's a life-affirming moment, being on the phone with a participant who has family with COVID-19, helping to keep them calm."
Richard added, "The students crave social interaction and hands-on experiences. We work on keeping them motivated. I'm always the one with the smiles and really bad jokes. That's helped a lot."
GCD, all three agreed, is more than a program. "We all call it a family. GCD is always a constant. It's people who care, and who know what they're doing."
Photo, from left: Lashima Goshine, Kadija Ceesay, and Richard Burgess, alumni of The New Jewish Home's Geriatrics Career Development program and current members of the team that runs Healthcare Explorers.
The New Jewish Home's SkillSpring program (formerly known as Geriatrics Career Development program) has helped teens and young adults in New York City pursue careers in health care since 2006. Program participants are immersed in long-term care settings and provide more than 8,000 hours of companionship and clinical care to older adults each year.
Alumni from our GCD programs have access to resources from our Workforce program to help them meet academic and career goals. Learn more about our high school program for teens and our young adult program.