November 17, 2022
PIX 11 reporter Greg Mocker visited our Manhattan campus earlier this week to learn about SkillSpring, our hands-on healthcare workforce training program. The program provides career development opportunities for underserved young people and offers an immediate solution to the acute workforce shortage at aging services organizations.
Greg heard from all who benefit from SkillSpring—our program participants, a resident, The New Jewish Home leadership, and an outstanding program alumna who has moved up the ranks to become our clinical care manager.
Watch the PIX 11 news clip here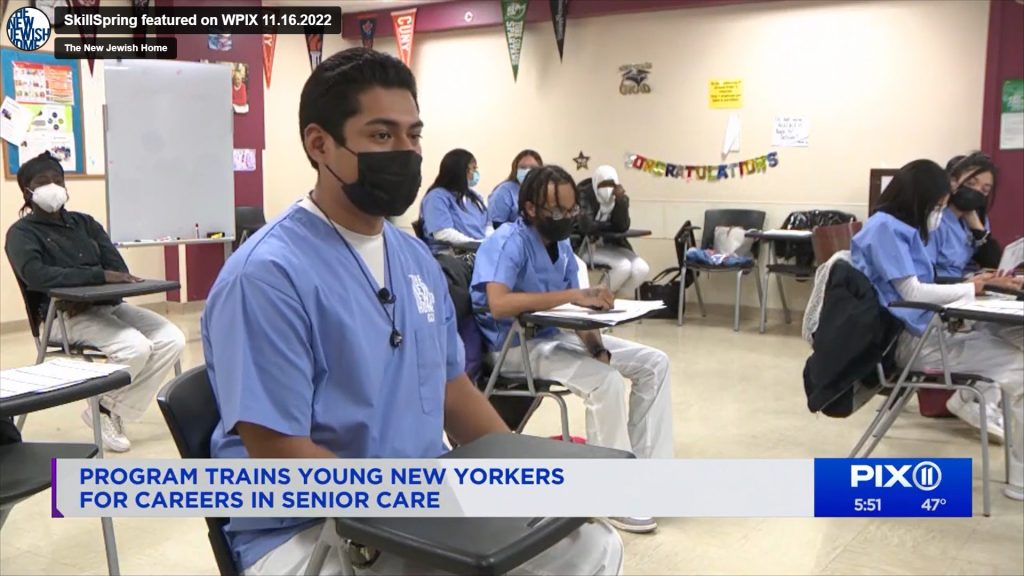 SkillSpring emerged from our successful Geriatrics Career Development Program (GCD). For the past 16 years, GCD has successfully trained 1,000+ young people from under-resourced communities to become certified in allied health professions, pursue health care careers and higher education.
Our SkillSpring Young Adult Program creates pathways for young adults (ages 18-24) disconnected from school and work to achieve certification for in-demand healthcare jobs. Our immersive training results in participants becoming certified nursing assistant in just three months, leading to job offers in aging services organizations and career ladder opportunities in health care. In 2022, SkillSpring expanded to The Hebrew Home at Riverdale at RiverSpring Living, with the generous support of the Heckscher Foundation for Children, and is now poised to scale across New York City.
To learn more about SkillSpring, please contact Alyssa Herman, Chief Development Officer, at AHerman@jewishhome.org.
The New Jewish Home's SkillSpring program (formerly known as Geriatrics Career Development program) has helped teens and young adults in New York City pursue careers in health care since 2006. Program participants are immersed in long-term care settings and provide more than 8,000 hours of companionship and clinical care to older adults each year.
Alumni from our GCD programs have access to resources from our Workforce program to help them meet academic and career goals. Learn more about our high school program for teens and our young adult program.