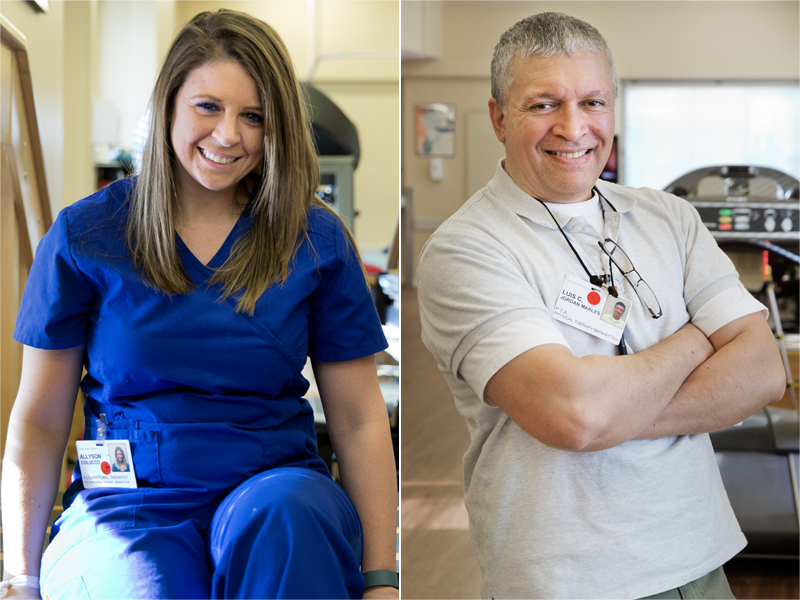 September 14, 2020
When Shelby was admitted to The New Jewish Home for short-stay rehabilitation after being hospitalized for COVID-19, she felt fearful and anxious. She needed extensive assistance for everything—she couldn't even tolerate sitting in a wheelchair. By the time she was discharged, she was independent, able to care for herself and walk without any support.
Shelby is just one of the many patients who has received exceptional, person-directed rehabilitation care at The New Jewish Home after a hospital stay for COVID-19. The pandemic has brought a new wave of short-stay rehabilitation patients who are recovering from the disease.
"Patients come from the hospital very debilitated," said Lauren Raschen, director of rehabilitation. "They may be able to take a few steps, but they can't bend down to put their pants on, and they may not be able to feed themselves. They have overall muscle fatigue and breathing concerns, and some may have neurological symptoms like tingling in their legs and arms. They haven't been outside in months, and they haven't seen their families."
"Some of these patients are so weak they can't even use a call bell," said Fae Boczko, director of the Department of Speech-Language and Swallowing Disorders. Some have pressure ulcers because they were hospitalized for so long.
Clinicians from Lauren's and Fae's teams work in partnership with doctors and nurses to help patients regain their strength and relearn basic life skills. The process takes at least a month, and can take three months or more.
The therapists begin with bedside treatments, helping patients roll over in bed, sit up, and eventually begin to walk with the help of a walker or cane. "We work with their own body mass initially and eventually start to use weights," Lauren said. "Some patients can tolerate 30 minutes of movement, some can tolerate more, and others need frequent breaks." As new protocols for treating post-COVID patients becomes available, the therapists adapt accordingly.
A patient's physical therapist works with them on strengthening their legs so they can walk with confidence and climb stairs if that's necessary in their homes. Meanwhile, the occupational therapist focuses on daily goals and activities, like learning to dress and feed themselves, and use the toilet without help.
Thanks to dedicated therapists and effective, customized treatment, patients steadily make progress toward their goals. For example, Daniel, arrived at The New Jewish Home unable to move independently. He left able to walk.
Helping patients relearn to breathe independently, speak, and swallow is the specialty of the Speech-Language and Swallowing Disorders team. Post-COVID patients often come to The New Jewish Home with a tracheostomy and feeding tube.
"We've always treated tracheostomy patients successfully," Fae said, "and we have excellent outcomes with these patients as well. We work with them on coordinating swallowing and breathing. We have been very successful in weaning patients from the trach, working with them step by step to a point where they no longer need it. They are overwhelmed with joy."
One challenge is communicating with patients before they can speak. Sometimes we use a communication board or a book where they can indicate letters, words, or images," Fae said. "Or they may need to gesture or write out their messages. When they are able to tolerate a speaking valve, we'll introduce that, to begin verbal communication."
Patients begin to feel better when they can use their voices. One patient told Fae, "Having a voice back makes me feel so connected. Thank goodness I can actually begin to talk."
Stefanie Sakowich, a clinician in the Department of Speech-Language and Swallowing Disorders, explained her approach to helping patients relearn to swallow and eat real food. She performs a bedside evaluation to assess the biomechanics of each patient's ability to swallow, so that the team can plan a treatment tailored to that patient's needs. She usually begins by giving them exercises to strengthen their tongue. Later, a member of her team will conduct a swallow study—an evaluation in which a camera is inserted through the patient's nose to see how he or she is managing food and liquid.
In therapy only, Stefanie will give the patient some pureed food and thickened liquids—not for nutrition or hydration, just to practice. When they can safely handle purees, they'll begin receiving pureed snacks, then pureed meals. Meanwhile, Stefanie will introduce foods with more consistency in therapy, moving slowly to integrate more advanced textures into the patient's diet until they are receiving sufficient nutrition by mouth.
Although families are still unable to visit, the clinicians involve them in the rehabilitation therapy as much as possible. "We call them immediately to explain our findings and our plan and let them know the results of tests. We explain the physiology and the mechanics of swallowing," Stefanie said. Layne Gabriel-Bloom, an occupational therapist, sometimes makes videos of herself and the patient using adaptive equipment, so that the family caregiver will know how to use it once the patient comes home.
"We never look at what our patients CANNOT do, but rather, what they CAN do," Fae said. "And we build on that. It's all about restoring confidence and dignity."
*The identities of the people have been changed to protect their protected health information.