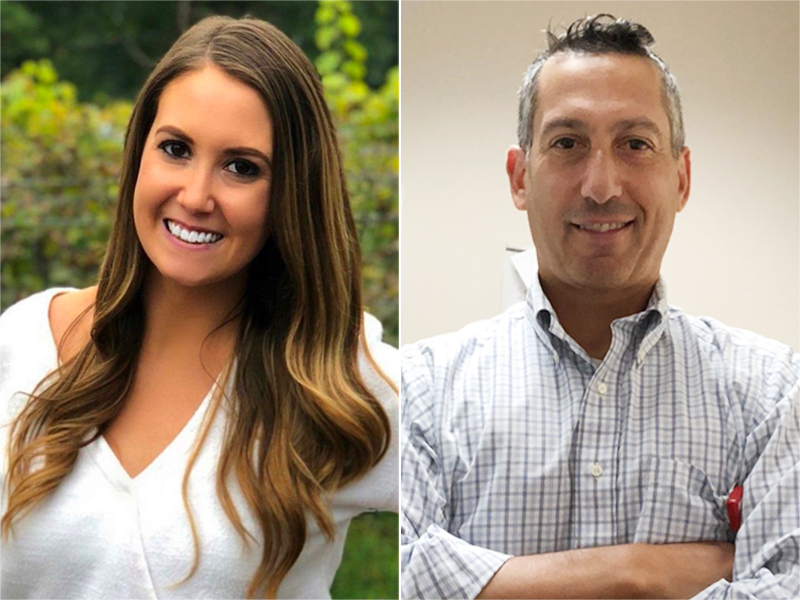 September 16, 2020
Throughout the global pandemic, the skilled physical, occupational and speech therapists at The New Jewish Home's Westchester campus, Sarah Neuman delivered excellent rehabilitation care.
When speech therapist Nicole Megahey works with patients, she typically has to sit inches away from them, often talking loudly and getting up close to demonstrate movements of the lips, tongue and jaw. When COVID-19 arrived and nursing homes were ordered into lockdown, things got more complicated for Nicole and her colleagues in the physical, occupational and speech therapy department at The New Jewish Home's Westchester campus, Sarah Neuman. Suddenly, getting too close to other people was discouraged. Forming close, trusting relationships, which contribute so much to successful therapy, was a lot harder when therapists, swaddled in layers of personal protective equipment (PPE), tried to communicate with patients, some of whom were hard of hearing or had dementia.
Although there was "a slight bump in the road immediately after the lockdown, there was never any breakdown in care," according to Will Siegel, Director of Rehabilitation. He credits the seamless transition to a unique partnership that was formed last October, just months before the pandemic began, between The New Jewish Home, Sarah Neuman and nearby Burke Rehabilitation Hospital, a member of the Montefiore Health System, one of the nation's leaders in rehabilitation medicine for over 100 years.
Even before joining forces with Burke, Sarah Neuman, with its state-of-the-art rehabilitation gym and homey residential setting, was already a magnet for New Yorkers seeking top-quality rehabilitation following illness or surgery. With the Burke partnership came a team of (a dozen or so) highly skilled physical, occupational and speech therapists, including Siegel, who were now assigned to work full time on site, at Sarah Neuman in Westchester.
"Verbal guidance and physical contact are our essential tools," Siegel explains, "and while it became more difficult with COVID-19, the staff never stopped doing their jobs. They were still effectively teaching people to walk, to dress, to eat as they always did." Instead of working in the gym or other central locations, therapists worked with patients in their rooms. "They would have to change their PPE many times a day, but they did their jobs without question and without complaints."
The therapy staff, he says, faced multiple challenges: their own fear and stress in the face of COVID-19, the need to develop new ways of teaching patients, and the loss of a vital team member: the family. Under normal circumstances family members play an important role in a patient's recovery both during inpatient rehab and after returning home. With families not being able to visit, therapists devised ingenious ways to involve them, according to Siegel.
"At times we needed the family to motivate patients who felt cut off or disoriented after they'd spent weeks in the hospital prior to coming here." Technology came into play: "We'd set up a screen during the session, and FaceTime with family, making sure the camera was on the patient and therapist. We'd explain how and what we were doing and encourage the family to be involved. One patient really perked up when his family spoke to him in Greek. Sometimes it was something as simple as the family showing photos of the grandchildren and encouraging the patient to get better so they can come back home."
As COVID-19 began to affect Sarah Neuman's residents, Nicole Megahey's specialty — which involves speech and swallowing therapy — took on greater importance. "More than half of the residents who had COVID now had a greater need for speech and swallowing services." Many had trouble chewing and swallowing and Megahey and her colleagues worked closely with the dietary department to ensure that each patient's diet was adjusted often as their condition changed. "We might have to change a patient from solid to ground food or a liquid diet. We would go back to treat them multiple times in the course of a day to check their hydration and make sure they were getting enough food and the right consistency to ingest safely."
Apart from their own training, skill and dedication, the speech therapists had another superpower: the resources of The New Jewish Home's Department of Speech Language and Swallowing Disorders, recognized for its leadership in the treatment of speech, swallowing and airway disorders. "Like our partners at The New Jewish Home's Manhattan facility, we are also using the Iowa Oral Performance Instrument (IOPI), which gives us the ability to coordinate in establishing a standard way of assessing patients," Siegel explains.
Siegel is inspired by his team, "These are dedicated professionals who chose this field because they want to help people. They selflessly put the best interests of the patients first, every day. The staff have been beyond amazing and truly represent the essence of what it means to be a health care hero."
Photo: William Siegel, Director of Rehab (right) and Nicole Megahey, Speech Therapist (left)