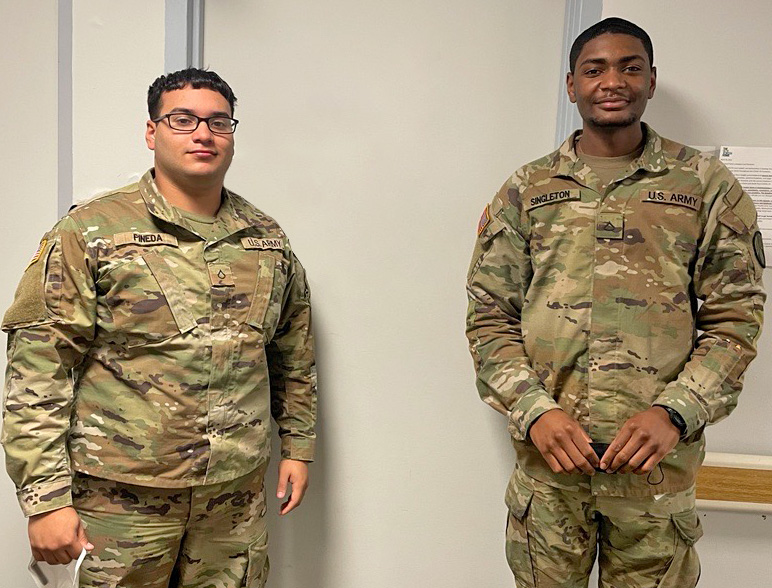 May 13, 2022
Staff and patients at The New Jewish Home benefit from assistance by the National Guard.
In January when COVID-19 cases were soaring due to the Omicron variant, New York Governor Kathy Hochul authorized the deployment of the National Guard to nursing homes throughout the State. Their mission was to provide non-clinical assistance in the face of looming staffing shortages. "Even though Omicron usually causes milder symptoms, it is extremely contagious and spreads so rapidly that many nursing home staff who are vaccinated were becoming ill or had to quarantine," says Darlene Corporan, LPN, Clinical Care Manager. "Our Administration understood how helpful the National Guard could be for staff and patients, and we applied to be part of this program."
Before the end of January, several National Guard members were assigned to our Manhattan campus. By April, we had ten Guard members assisting there, and another two at Sarah Neuman, our Westchester campus. "We are so grateful for their help," says Ilene Arroyo, Senior Director of Human Resources. "They have formed strong working relationships with our staff and special bonds with patients, especially with some who have served in the military." National Guard members perform an array of non-clinical tasks that include assisting security guards in checking visitors' IDs, verifying COVID test results, transporting patients to off-unit activities, sorting patients' mail, and spending time with patients playing board games or engaging them in conversation.
"I believe we are making a difference for patients and staff every day," says Private First Class Jon Michael Pineda. "This has really been a good experience for me. It is so heartwarming to see patients' eyes light up when they see us, and I have become much more aware of the needs of older adults." Pineda enlisted in the National Guard to further his education and is studying IT in the military while working as a pharmacy technician. "The military offers a lot of opportunities, and I joined the National Guard to make a better life for my daughter," says Pineda. "When my Unit was asked for volunteers to assist in nursing homes, I signed up. There is so much going on in the world today, and I felt this was a way I could help."
Private First Class Brian Singleton also volunteered to be part of this mission to help fellow New Yorkers. Both he and Pineda live in Washington Heights and share a wish to serve, along with the desire to advance their education. "The staff at The New Jewish Home are great," says Singleton, "and I am learning a lot from my time here. I am currently working in the hospitality industry and studying Business Administration. Being here has made me aware of new career options. Also, I feel that this experience is helping me become more mature. Working with older adults, I have learned to be extra patient. I have grandparents whom I love and respect, but now I want to spend more time with them and learn more about their lives."
National Guard members will be at The New Jewish Home for as long as their mission lasts. "It is two years since the pandemic began, and our staff have done an incredible job throughout this challenging time," says Darlene. "We are all so appreciative of the support being offered by the National Guard, and we are glad to have them work with us for as long as they can."
The New Jewish Home has a proud legacy of empowering older adults to live with purpose and enhanced well-being. We've been around since 1848 as one of the nation's first nursing homes, and now serving older New Yorkers of all backgrounds through a portfolio of health care services, including post-acute care and rehabilitation, skilled nursing, adult day care, assisted living, and at-home care.
See how we continue to elevate health care for older adults through our Research Institute on Aging and our SkillSpring program (formerly known as Geriatrics Career Development program), which empower teens and young adults to begin careers in health care.