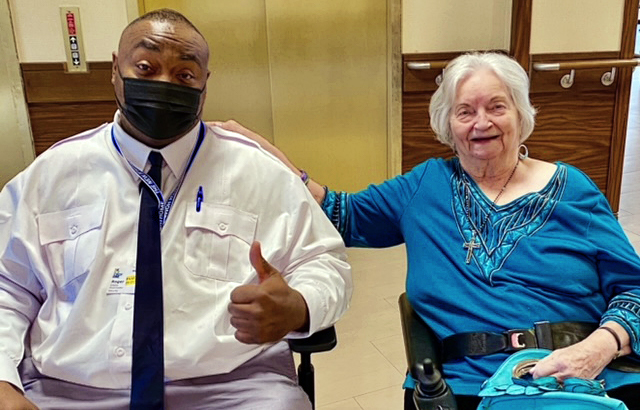 April 6, 2021
When visitation reopened at The New Jewish Home's Sarah Neuman facility in Westchester on March 31, the hallways were full of emotion. Lorraine Thomas, a recreation therapist, said her eyes hurt from all the tears of joy she cried with families who were able to visit their loved ones in person after many months apart.
"Our resident Mr. Lopez was so surprised today to receive a family visit that he shouted, 'My son, my son, my son!'" Lorraine said. "They gave each other the biggest hug ever! It was so sweet to see them reunite!"
Lorraine also shared the story of resident Dorothy Burack, who comes by her office every day to chat. "This time, though, she was more alert and happier than usual, and she shared the news that her daughter and son-in-law had come by for a surprise visit." Lorraine was glad to hear Dorothy recount this emotional reunion and to see firsthand the lasting impact it had on her mood. "I am so grateful that residents and families can finally be together again," Lorraine said.
Marcella Simone came around the corner from the elevator on the second floor and spotted her mother, Irma Pennisi, walking toward her. "She noticed me right away," Marcella said with emotion. "I gave her the biggest smile as if to say, look who's here! And we hugged and hugged so tightly. We both cried and she said she was so surprised to see me and how much she loved me."
Elation, tears, and thankfulness—that's how Debra Grant and her sister described their first visit to their mother Jean Grant in five months. "We're grateful for the video calls and window visits throughout the months, but there is nothing like being able to see her face-to-face," Debra said. "She looks wonderful and is definitely well cared for by the staff."
Niolina Mariani's daughters Silvana and Yolanda were so happy to see their mother again. "We were like little kids, so excited to finally be able to see and hug each other again. We FaceTime almost every day and call to check in on her morning and night," they said, but there's nothing like an in-person visit. We are so very thankful for everything and everyone for taking care of her since we could not be there.
Angela Servidone wore a big smile when her son Peter arrived. "I was so pleased that I was able to see her, speak to her and touch her. I was so happy to see her expression! It was so nice to be able to come in and be with her and knowing that she he's feeling well and has been so well cared for."
One sign that things are returning to normal is the reopening of the hair salon, which was closed for nearly a year. Now residents can prepare for family visits, and many of them are ecstatic. As Joan Deubler of Small House 1 said, "I can finally look as good as I feel!"
The New Jewish Home has a proud legacy of empowering older adults to live with purpose and enhanced well-being. We've been around since 1848 as one of the nation's first nursing homes, and now serving older New Yorkers of all backgrounds through a portfolio of health care services, including post-acute care and rehabilitation, skilled nursing, adult day care, assisted living, and at-home care.

See how we continue to elevate health care for older adults through our Research Institute on Aging and our SkillSpring program (formerly known as Geriatrics Career Development program), which empower teens and young adults to begin careers in health care.