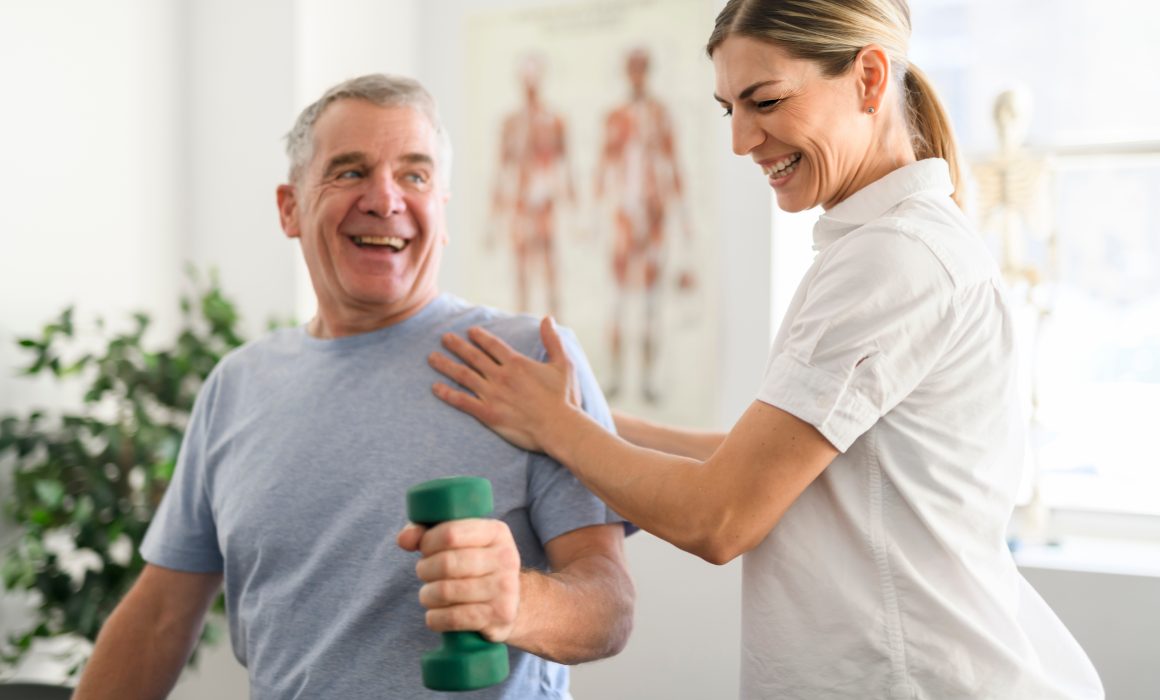 February 22, 2023
Cardiac rehabilitation is an important step in recovering from a serious heart condition or surgery. Knowing what to expect before starting a cardiac rehab program can help patients and their loved ones feel more confident about the course of treatment. We'll explain what cardiac rehabilitation is, how to prepare, and common goals for recovery.
What is cardiac rehabilitation?
Cardiac rehabilitation—or rehab—is a comprehensive treatment program designed to help patients recover from heart-related ailments such as heart attack, stroke, or congestive heart failure.
While programs vary with each patient's condition, they typically include exercise training, physical and speech therapy, and patient education on diet and lifestyle changes to support better health and reduce future risk. Patients frequently participate in supervised sessions that involve cardiac monitoring during exercise as well as regular medical exams and laboratory tests to monitor the effectiveness of treatments.
How do you prepare for cardiac rehab?
Preparing for cardiac rehab can increase the effectiveness of the program and helps you maximize the benefits of the treatments and therapies you receive.
Here are four steps to help you prepare for cardiac rehab:
Talk to your doctor
Start by discussing your program's specific therapies, timelines, and objectives with your physician or cardiologist. This will help you know what to expect and can help you set realistic goals for recovery.
Assess your lifestyle
Your doctor will explain any necessary lifestyle modifications you need to make before, during, and after your cardiac rehabilitation program. Adjustments may include changes to diet, fitness, and other activities or habits.
Research programs
Take time to learn about the different types of cardiac rehabilitation programs. Your doctor can recommend options that are best for your specific condition, including short-term rehabilitation, outpatient programs, and home-based treatment options.
At The New Jewish Home's Manhattan campus, our short-stay Cardiac Rehabilitation Center operates in partnership with NYU Langone Health, offering specialized in-patient rehab with the latest techniques and treatments.
Build a support system
Having a network of supporters can help you stay motivated, and that can improve your outlook and your outcomes. Stay connected with friends and family who can provide support or find an accountability partner who can keep you honest and help you stay on track.
Goals of Cardiac Rehab
Cardiac rehab goals are multifaceted and vary with each patient's condition and lifestyle. Common cardiac rehabilitation goals include:
Improving overall cardiovascular health
Strengthening the heart muscle and improving its ability to pump blood
Reducing stress
Decreasing the risk of future cardiac events
Lowering blood pressure and cholesterol levels
Increasing the capacity for exercise
Building physical strength
Developing better lifestyle habits like regular exercise and heart-healthy diets
Cardiac Rehabilitation at The New Jewish Home
At The New Jewish Home's Cardiac Rehabilitation Center, patients are cared for by an experienced team of healthcare professionals who provide care coordination with their cardiologist. Working as a team, they monitor every aspect of a patient's recovery with:
24/7 medical care
Each patient's care team includes nurses, certified nurse's aides (CNAs), physicians, nurse practitioners, cardiologists, therapists, dietitians, social workers, and other specialists, with on-call medical care available 24/7.
CNAs keep patients as comfortable as possible and help with daily activities, including getting out of bed, showering, eating, and anything else a patient needs help with. Patients are regularly visited by physicians and nurse practitioners who monitor their condition, progress, and medications.
Physical and speech therapy
Rehabilitation therapies begin shortly after a patient's arrival. After a functional evaluation, physical therapy sessions will be scheduled each week, helping patients build strength and regain independence. Physical therapy programs focus on gait training (relearning how to walk and stand), grooming, eating, bathing, and other activities on a patient's goal list. Patients also have access to speech therapy, which can improve communication and swallow function.
Dietitian services
All cardiac rehabilitation patients meet with a dietitian shortly after their admission. Dietitians discuss food preferences and dietary plans to create menus tailored to each patient's unique needs. Patients can consult with the dietitian at any point throughout their stay.
Social work services
The New Jewish Home takes a holistic approach to care and supports our patients' physical and emotional well-being. Our social workers discuss care plans with family members and explain the support needed to meet specific goals.
Health Education
Our team will work with the patient and their families to help them be able to identify warning signs and know when to call their doctor if and when their health condition changes.
Supportive community
A positive outlook can go a long way in a patient's recovery. That's why The New Jewish Home provides a supportive community to help patients stay connected with what matters to them. Patients can attend religious services, cultural programs, and recreational activities, or they can relax in community rooms, gardens, and other spaces with family and friends. Each patient room has a TV, phone, and Wi-Fi so patients can relax and stay connected with loved ones.
Interested in learning more about our Manhattan Cardiac Rehabilitation Center and our award-winning short-term rehabilitation programs and post-acute care? Contact us.