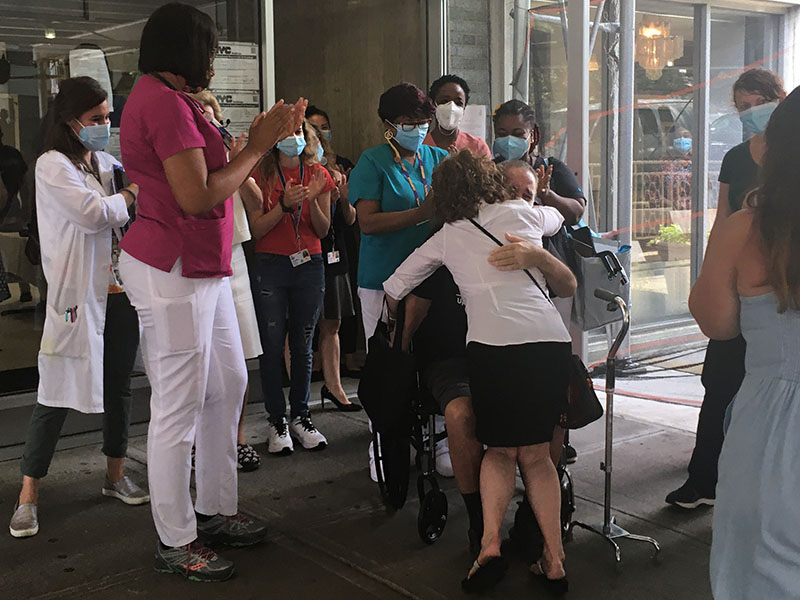 August 4, 2020
Larry Kelly is probably one of the best-known COVID-19 survivors in New York City. Larry, who retired a few years ago as the assistant principal of a high school in Harlem, contracted COVID-19 while performing in a dinner theater in Fair Lawn, NJ. The whole cast of the play got sick. A New York Times profile of Larry, published in July, reported on the 51 days he spent on a ventilator in a drug-induced coma, first at Mount Sinai Morningside and then at Mount Sinai Beth Israel Hospital, before he arrived at The New Jewish Home.
After he was removed from the ventilator, Larry was very debilitated. He was breathing through a large tracheostomy tube, and receiving nutrition through a feeding tube in his stomach and IV fluids. He couldn't speak or swallow, and the right side of his body wasn't working, due to a brain bleed that occurred while he was in the coma. He was moved to The New Jewish Home to recover and receive rehabilitation treatment.
"When I arrived, I was just lying on my back," he said. "I couldn't move my right arm, and I had foot drop on my right leg. My left side was unaffected, but my grip on that side was about 50%. I couldn't even lift my arms."
Working Hand in Hand with Physical and Occupational Therapists
When Larry arrived, his physical therapist, Betty Taco, did an initial evaluation. "The first words he said to me were, 'I want to walk,'" Betty said. "I couldn't promise him, but I said we'd try."
The very next day, Larry's occupational therapist, Layne Gabriel-Bloom, and Betty began helping him regain bed mobility, and he learned how to roll onto his side. Then they worked on getting him to sit up on the side of the bed. Betty monitored his oxygen as Larry attempted each activity; after sitting up for less than a minute, she said, his oxygen dropped quickly. By the following week, he was able to sit a little longer. A motivated patient, he made steady progress. "I was always athletic, in touch with my body, and could problem solve certain things," Larry said. "I can figure it out."
Betty started working on strengthening Larry's legs with exercises done in the bed, like stretching his ankles, but she knew that walking was his goal. "She got me on my feet fairly quickly," Larry said. "My legs were very weak when I first stood up. I took three steps, then sat down, very winded. Betty explained it all to me. I progressed to five steps, seven steps, and each time my legs felt better."
At first, most of the physical therapy took place in Larry's room. Betty placed weights on his feet to strengthen his legs and gave him exercises to do in his wheelchair, geared toward getting him walking. "Now I can walk from my room the gym and back by myself, using a four-legged cane," Larry said, just a couple of days before he finally went home. "I had a walker first, then a cane. They're very cautious — they had their hand on my back or they were behind me for a long time."
Layne focused on helping Larry regain the use of his hands. "It was a really slow process in the beginning," she said. "We worked on increasing his range of motion, and trying to open his hands, which were clenched." She also worked on teaching him about everything that was going on with his body, so he would understand and be able to more fully participate in his treatment. She eventually provided Larry with a splint to help him open up his clenched right hand. The first time he tried it, he could only tolerate it for half an hour. Larry has progressed, and the splint has helped to relax his hand, but, said Layne, consistency is key. "If you don't keep it up, the hand closes up."
Relearning How to Breathe, Speak and Eat
Stefanie Sakowich, a member of the Department of Speech-Language and Swallowing Disorders, worked with Larry on recovering his voice and slowly relearning how to eat real food. Her first task was to prepare him to be weaned from the tracheostomy tube (trach). She used a speaking valve to enable Larry to talk and to practice breathing without support, until he could breathe on his own. At the same time, she began giving him exercises to strengthen his tongue.
Over the course of a couple of weeks, Stefanie worked with the nursing staff and doctors to downsize his trach to a smaller one, and then wean him off the trach when he had demonstrated that he could breathe independently.
Stefanie also conducted a swallow study — an evaluation in which a camera is inserted through the patient's nose to see how he or she is managing food and liquid. Together they worked on strategies for eating and continued doing strengthening exercises.
"The therapy moved slowly," Larry said, "they didn't rush it. I was dying for an Italian ice, but I didn't get food for a while."
Stefanie began, in therapy only, giving Larry some pureed food and thickened liquids—not for nutrition or hydration, just to practice. When he was doing well with purees, he began receiving some pureed snacks, like yogurt and applesauce. Next he was upgraded to pureed meals, while Stefanie began working with him in therapy on foods with more and more consistency — first scrambled eggs, and then soft cooked vegetables. Slowly, these foods were integrated into his diet. He wasn't weaned from the feeding tube until his doctor and nurses were confident that he was getting sufficient nutrition by mouth.
"I wanted to eat more than she was giving me," Larry commented. "I couldn't take any more pureed chicken!"
"It was a pleasure working with Larry," Stefanie said. "He was highly motivated. I gave him strategies, and he knew what to do. It's up to the patient to do exercises independently, and he did them multiple times throughout the day."
Layne, the occupational therapist, collaborated closely with Stefanie so that as Larry was learning to eat again, he could also learn to feed himself. "He needed to hold onto utensils, but he didn't have a good grip," Layne said. "I had to get him bigger utensils with a bigger grip. I also built up his toothbrush by wrapping surgical tape around it so he could hold it."
In addition to addressing his grip issues, Larry, who is right-handed, had to learn to do things with his left hand that he had always done with his right, such as feeding himself and getting dressed. Layne gave him exercises integrating both hands — for example, using his left arm to help move his right arm, to get those neural pathways working.
After being away from home for so long, without visits from his loved ones, Larry was feeling isolated. His grip issues would have made it difficult to use a phone. Rabbi Jonathan Malamy, Director of Meaningful Life, set up an Amazon Echo in Larry's room that he could use as a hands-free phone, utilizing voice recognition to make calls. "I have a whole Alexa system so I can speak to my family and friends," Larry said. "Alexa was a lifesaver."
Going Home
One hundred and twenty-eight days after he was first hospitalized, Larry went home on July 22. He was breathing on his own, eating normal food, getting in and out of bed, feeding and dressing himself, and walking on his own with the help of a cane. "It was a journey for him, but his motivation to walk and his positivity made him who he is," his physical therapist Betty said. "It's really a miracle."
He's still got some work to do to regain his former strength, and he will be continuing physical and occupational therapy at home as a client of The New Jewish Home's Certified Home Health Agency. Layne sent him home with a tool for working on wrist strength, and she made a video explaining how to use it, which she emailed to Larry's wife, Dawn. "Since families are not permitted to visit at this time, we can't conduct live caregiver training," she said. Before Larry left, he and Layne made a video together about how to put on his wrist a splint and use it, so Dawn can help him at home.
"I've got nothing but good things to say," Larry declared. "I'm going home, and that's amazing in itself." He admitted that he was a little apprehensive because he still has difficulty using his hands, but he was happy nevertheless. "I'm excited about being able to walk," he said. "I'm looking forward to being able to get up and go when I want to. "
A week after his discharge, Larry was in good spirits and thrilled to be home. "The physical therapist from The New Jewish Home is incredible," he said, "and I was just approved for occupational therapy. A visiting nurse comes twice a week." His biggest challenge is navigating the shower — for now, he's dependent on his wife to help him — "and she's doing a great job," he said. His hands have a long way to go, but he says they are getting better every day.
The big news: "I walked without the cane, 60 feet!" He's grateful to be waking up in his own bed. "I'm sleeping well. I'm optimistic. I can't complain."