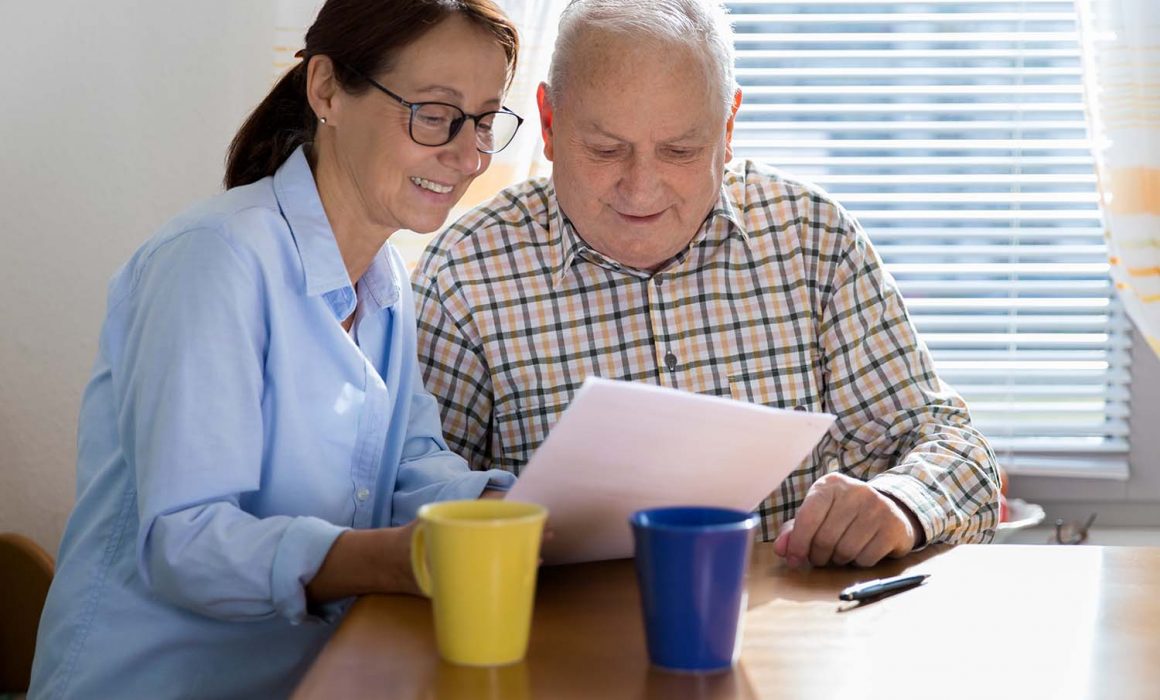 October 23, 2019
Making the right decisions when it comes to you or your loved one's health care can be challenging. Managing doctor appointments, medication, and nutrition staying on top of bills and dealing with insurance providers is often overwhelming for older adults. The New Jewish Home, Solutions At Home® in-home care is a program that helps you or your loved one navigate health care resources and maintain the best quality of life.
Mr. R., who lives alone in Westchester, was hospitalized after a fall. Prior to the incident, he had assured his family that he was managing well at home and paying his bills on time. When Mr. R. was transferred to a short-stay rehabilitation program, his stepson, who resides out of state, checked in on Mr. R's home. He was surprised to find the home in disrepair and the bills unpaid. Mr. R.'s stepson immediately reached out to Solutions at Home® and met with a Geriatric Care Manager. After assessing the situation, the Geriatric Care Manager scheduled a deep clean and arranged for private home care, prior to Mr. R.'s discharge. Thanks to our Geriatric Care Manager, he was able to safely return home. Since then, Mr. R. and the Geriatric Care Manager have developed a trusting relationship and he looks forward to when she makes home visits. During her visits, the Geriatric Care Manager ensures his medic alert is working, follows up with his medical appointments, and helps him pay his bills on time. She also conducts conference calls with Mr. R.'s stepson, so he is able to remain involved and informed, despite residing out of state.
Here's how it works. Our Geriatric Care Managers, who are experienced clinical social workers and registered nurses, are experts in navigating the complex health care system and resources and they work with you step-by-step to arrange care and services for you or your loved one. They'll consult closely with your physicians to create a customized care plan, handle insurance issues and conduct home safety assessments and support along the way you as your needs change.
If you're looking for support with light housekeeping, meal preparation and activities (such as exercising, bathing, dressing), our licensed and highly trained Home Health Aides will provide the care you need. As part of the Solutions At Home® program, our Home Health Aides are available 24/7 at your home and also at hospitals, nursing homes, and specialty care facilities. They receive additional training in palliative care and serving older adults with chronic diseases such as congestive heart failure, emphysema, diabetes, Alzheimer's and other dementias.
Solutions at Home® is primarily a private pay service with rates starting at $175/hour and the service offering is fully customizable in terms of hours so you only pay for what you need.
Solutions at Home® provides you and your loved ones with peace of mind.
Solutions at Home® has earned The Joint Commission Gold Seal of Approval® and serves clients in the Bronx, Manhattan, Queens and Westchester County. For more information about the Solutions at Home® program, visit our website or call (212) 273-2577.
# # #