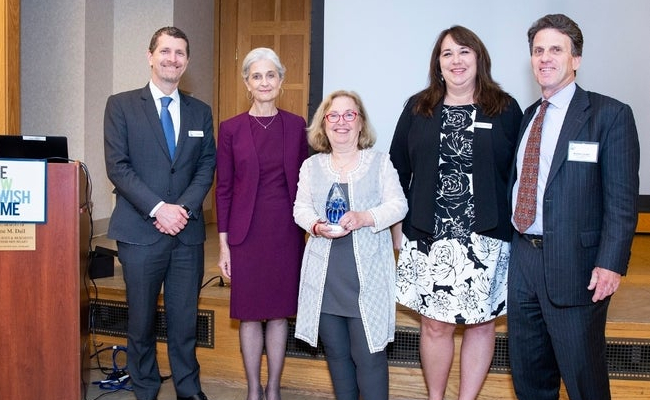 June 3, 2019
"Dementia Reimagined": A Lecture by Dr. Tia Powell
Westchester residents brave thunderstorms to attend The New Jewish Home's 20th Annual Stein Lecture on Dementia and Alzheimer's Disease
By Clare Kelly, Neighbor
June 3, 2019, 2:42 PM ET
From Patch.com
On Thursday, May 30, almost 100 Westchester residents braved the rain, wind and severe thunderstorms to attend The New Jewish Home's 20th Annual Stein Lecture on Dementia and Alzheimer's Disease at the Sarah Neuman Campus in Mamaroneck. The New Jewish Home is a comprehensive, mission-driven healthcare system serving older New Yorkers since 1848.
Keynote speaker Dr. Tia Powell, Director of the Montefiore Einstein Center for Bioethics, was on hand to discuss her new book, "Dementia Reimagined: Building a Life of Joy and Dignity from Beginning to End," and to deliver a critically important message: "Dementia is not only about loss – it's also about the preservation of dignity and hope."
In his opening remarks, Dr. Jeffrey I. Farber, President & CEO of The New Jewish Home, said, "Dementia is the disease that Americans fear the most. There is no cure. Here at The New Jewish Home, we see how it impacts our residents and families. So, we focus on providing good care and comfort."
Dr. Farber added that both the Manhattan and Westchester campuses of The New Jewish Home have earned accreditation from Comfort Matters, a nationwide dementia care education and research program dedicated to improving the quality of care and life for people with dementia. Accreditation validates that an organization has taken extra steps to prepare for the care of persons with dementia.
During her presentation, Dr. Powell noted that The New Jewish Home and Sarah Neuman have in place the best practices in dementia and Alzheimer's care.
The Stein Lecture on Dementia and Alzheimer's Disease is an annual event for health care professionals and the general public that brings prominent experts in the field to The New Jewish Home's Westchester campus to share their expertise in various aspects of dementia and Alzheimer's disease.
The Lecture is sponsored by the Marion Stein Endowment Fund, which provides specialized training, services and programs for Sarah Neuman residents with Alzheimer's disease and other forms of dementia. The Fund was established with a major gift from the late Mrs. Alfred Slaner as a tribute to the late Marion Stein, an esteemed Sarah Neuman board member.
Also on hand were Ellen Lazarus, longstanding donor and daughter of Marion Stein; Sandra Mundy, Administrator of The New Jewish Home, Sarah Neuman; and Michael Luskin, Board Chair of The New Jewish Home.
Alzheimer's disease is a health care crisis of unimaginable proportions. According to the Alzheimer's Association, today there are 400,000 New Yorkers with Alzheimer's disease and dementia.
About THE NEW JEWISH HOME: Serving New Yorkers of all faiths and ethnicities, The New Jewish Home was founded 171 years ago as the B'nai Jeshurun Ladies Benevolent Society for the Relief of Indigent Females. The New Jewish Home's mission is to empower older adults to enhance purpose and well-being through a portfolio of innovative health care services. A comprehensive, nonprofit health care system for older adults, Jewish Home's care continuum includes short-term rehabilitation, long term care, adult day health care, geriatric care management and a wide range of home health programs. Jewish Home serves 10,000 older adults each year in their homes, on campuses in Manhattan and Westchester, and in senior housing residences in the Bronx. Technology, innovation, applied research and new models of care put The New Jewish Home at the vanguard of older adult health care across the country. The New Jewish Home is a proud partner and founding agency of UJA-Federation of New York.