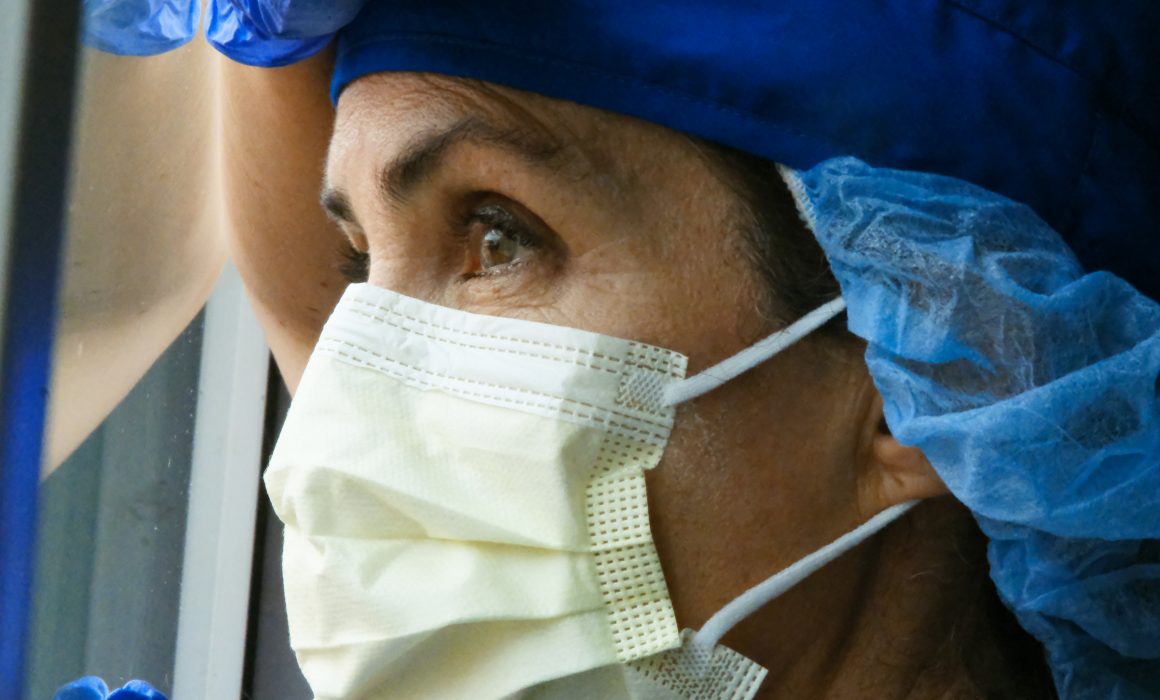 May 14, 2020
At The New Jewish Home, keeping a steady supply of personal protective equipment (PPE) in stock is always important. Long before most of us had given much thought to masks, gowns, and gloves, Michael Jurist — vice president of facilities and material management — and his team made sure we had enough PPE on hand to keep our staff, residents and patients safe.
But then, coronavirus hit — and things got more complicated.
For example, on a typical day during the COVID-19 pandemic, The New Jewish Home goes through 2,000 disposable gowns — up from 9,500 for the entire year before the coronavirus hit. And as the needs have increased exponentially, larger PPE suppliers may not have the inventory to meet the needs of a world fighting the virus. "Now we're going out and searching the universe for new vendors … but pricing has tripled, quadrupled for these goods," Jurist said.
Meeting the huge need for PPE would require out-of-the-box thinking and some specialized skills. So Anne Meara, senior vice president of business development, recruited her colleagues to help. While sourcing of equipment and products is not part of their daily job, the staffers Meara is engaging are using some of their best skills to source PPE.
Svetlana DeBellis, the vice president of managed care, typically spends most of her time negotiating managed care contracts. Meara asked her to apply her negotiating skills to a new realm, and she jumped right in.
"It's the wild west out there," she said. "Most of the vendors just recently decided to become vendors. They're offering merchandise that may or may not materialize, and prices that change daily. We found a vendor in China for gowns and purchased 50,000 — and then they got stuck in China."
DeBellis managed to connect with a company in California that answered the call to action and changed its production to making medical gowns. She has also found a vendor in Texas — and spoke with a representative of a company in New York City's garment district that produces reusable gowns. "We're learning a lot of lessons, getting lots of equipment in, and we're now in a much better place," DeBellis said.
When Jessica Auerbach Burgoon joined the PPE team, she began to build a workbook that helps track the demand for — and future usage of — PPE and supplies. Burgoon, the director of special projects, has a background in financial resource development and strategic planning. Now, she helps Jurist anticipate demand by constantly adjusting her projections based on the recommendations of the Centers for Disease Control and Prevention, her clinically focused colleagues, as well as the reality on the ground.
"Now we know when we need to start finding creative solutions," Burgoon said. "We have backup plans in place — even our backup plans have backup plans!"
Thanks to Burgoon, "we now have a great reporting system," Jurist said, "with home-grown algorithms based on the census and the number of COVID patients. I can always see how many days of inventory are remaining."
Other members of the staff have stepped in to lend their skills. Leah Burke, major gifts officer, has contacted donors to find out what they could offer. Dr. Ed Wu, formerly the medical director of The New Jewish Home and now leading PPE clinical strategy, is using his contacts in China to locate resources. And many others have reached out to their own professional and personal contacts.
Subscribing to the thinking that we're all in this battle together, Jurist even generously shares information and contacts with colleagues at other nursing homes, who are still facing PPE challenges.
"The New Jewish Home has been successful because early in the pandemic we understood its magnitude would require us to develop new ways to address supply — from the way teams are deployed to the tools we use to assess our position," Burgoon echoed. "It has been a great partnership across the organization. The safety of our employees and patients is our utmost priority. The conversation is not about price, it's about keeping people healthy and safe."