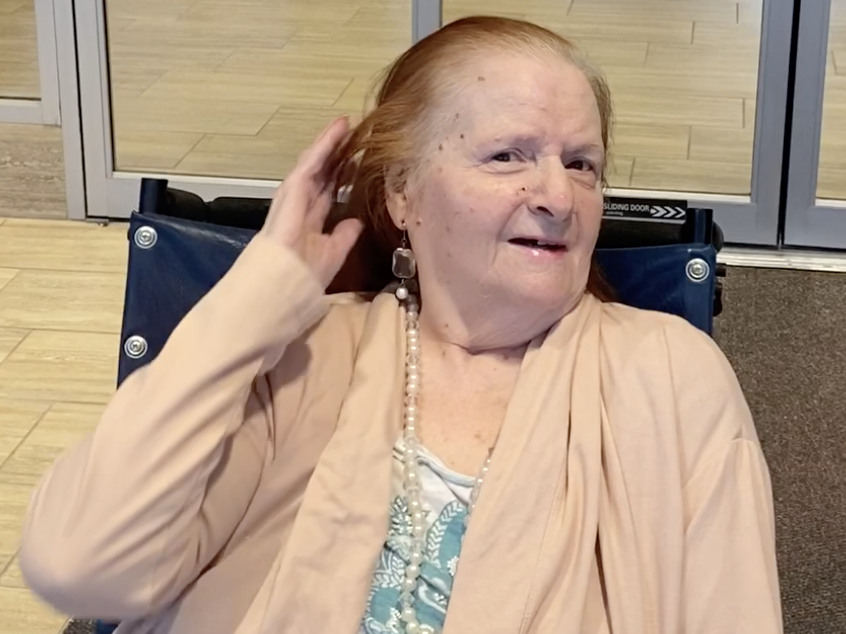 May 27, 2020
Her name is Elvira, but loved ones call her Vera. A talented woman who raised two daughters in the Bronx, New York with deep faith and willpower, her strength has helped her conquer many obstacles. Recently, her daughters and friends have been awed by her ability to overcome illness, including COVID-19.
Five years ago, Vera — who was born in Astoria, Queens — moved into The New Jewish Home's Westchester campus, Sarah Neuman. She is admired there for her beautiful outfits, dynamic personality, and open mind. About a year ago, already suffering from chronic obstructive pulmonary disease — COPD — and diabetes, she developed a life-threatening bronchial condition.
Her daughters placed her in the hospice at Sarah Neuman, and prepared to say goodbye. But Vera rallied and eight months later, stronger than before, she was back in her Small House community.
This spring, just before Vera's 90th birthday, her world turned upside down. Vera was diagnosed with COVID-19. "She actually got the positive test results on her birthday," her daughter Deborah said. But once again, Vera came through with flying colors.
"The New Jewish Home has been great," Vera's daughter Gianna said. Her mother is recovering in the short-stay rehabilitation suite at Sarah Neuman, as she and her sister have been delivering pizza to the staff every week, to thank them. They're also grateful to be able to speak to their mother via FaceTime, with help from the staff.
Vera, a single mom, is an artist in many ways, her daughters said. She paints, writes music — some of her songs have been published — and plays the organ. In her seventies she began learning guitar. She is very spiritual and studied every religion, teaching bible classes every week. When she lived in Duchess County, New York with her second husband, after her daughters were grown, she trained with the police department so she could work at the local suicide hotline.
Now that she's feeling better, Vera says, "I'd like to get back to my art work." She works in water and oil, she said, and gets her inspiration from Henri de Toulouse-Lautrec.
Vera says she is grateful for the excellent care she's received, and her daughters appreciate the staff members who provided that care. They especially want to thank Hyacinth, Debra, Maxime, André, and Sandra from the Shirley Mathews Care Team, Larry the activity director, social worker Kathleen Kuntze, and Larry Abrams, the administrator of Sarah Neuman.