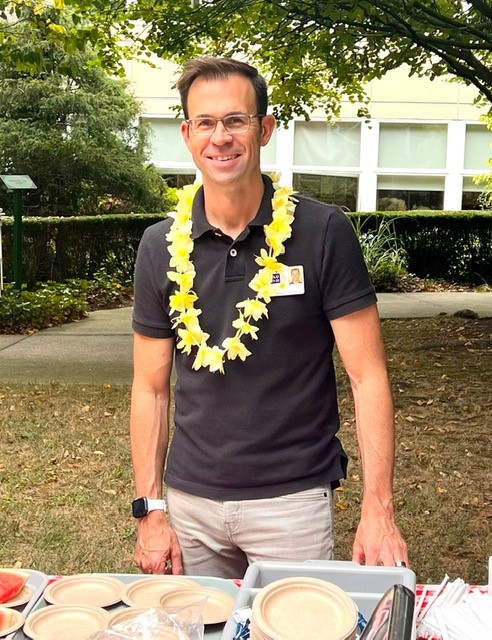 August 15, 2022
There's something especially gratifying about a homecoming story, and that is certainly the case for Eric Dietz, the Director of Therapeutic Recreation and Meaning at The New Jewish Home, Sarah Neuman.
An integral part of the nursing home's leadership team, Eric is responsible for programming all individual and group activities that not only provide important recreational opportunities for residents, but also fulfill critical therapeutic, cognitive and social functions as well.
The programs arranged by Eric and his staff help provide a continuity of meaning and purpose to daily life at Sarah Neuman.
"I get fulfillment watching people do something they enjoy. That's even more magnified when you can create joy in a clinical environment when so many other factors can present obstacles," Eric says. "But when a resident finds something they haven't done in years and it helps makes a connection, all of a sudden something clicks. It's like a light comes on and makes everything brighter."
A Westchester native who attended Mamaroneck High School only a mile down the road, Eric is now in his second stint with Sarah Neuman. His first time around was straight out of college.
"That was my first job after I graduated," Eric recalls. "It was a great experience, but I moved out of state to pursue my career at another facility. I didn't think at the time I would eventually be back as director, but here I am and I love it."
Eric never lost touch with his former colleagues, and when the position opened after he was back in New York, he jumped at the opportunity.
He is candid about the challenges of his job and sets the bar high for himself and his staff.
"This is a very difficult job to do well. You have to be creative and find the right connections that enable meaningful experiences and interactions, and you cannot be complacent. You are always rethinking the way you do things, trying to come up with new twists." he says.
A twist Eric recently arranged that proved to be an instant phenomenon is an art program called "Colored Canvas," an instructional painting series with local artist, Hansel Sanchez. While art classes have been a staple for years, Colored Canvas teaches residents how to use bold colors and abstract shapes, in the style of the instructor who typically commissions large modern pieces for serious art collectors.
Residents really loved the experience, according to Eric who met the artist through mutual friends. After a series of conversations where the two connected after learning Hansel's mother is also a nursing home resident, Eric convinced him to teach classes in the evenings at Sarah Neuman.
Residents took to Colored Canvas right away, although it was a bit of an adjustment for Hansel. "There is usually a learning curve with most instructors and volunteers we bring in," Eric explains. "Part of my job is teaching them how to interact with the residents. You have to adjust to them – their pace and their abilities. Not the other way around. But once people get it, that's when special connections with residents can happen. That's where the real value comes in. You can see it happen and it's special."