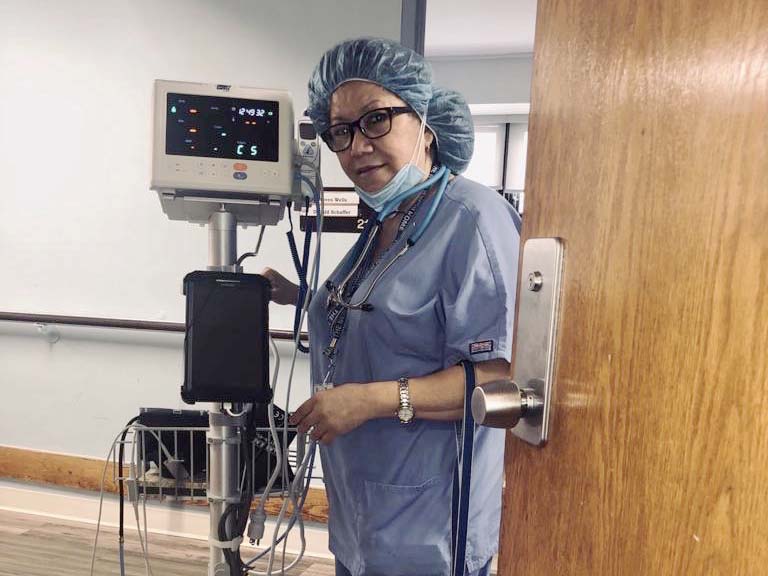 June 21, 2020
Lilian Gomez has faced challenges before. As a young woman, she emigrated to New York from the Dominican Republic and built a new life for herself. And she experienced one of the most challenging years of her life, she says, when she studied to become a licensed practical nurse (LPN). "My daughter was little at the time," Lilian says, "and it was very hard going to school full-time and working full-time. I had classes from Monday through Friday, then I worked double shifts Saturday and Sunday."
Now Lilian is navigating another big challenge, fighting COVID-19 as a member of The New Jewish Home's health care team.
Lilian has been a health care professional at The New Jewish Home's Manhattan campus for more than 20 years. She began as a certified nursing assistant and then went back to school for her LPN certification. "Nursing is not for everyone," she says. "You need to have a heart and compassion. I see myself and my parents in each one of my residents."
The COVID-19 pandemic has made life at the nursing home more complicated. Lilian finds it especially painful that her patients' family members cannot come to visit. "That's the hardest," she says. "They can't wait for this place to open so they can see their loved ones again."
In the meantime, she does as much as she can to fill that gap by providing a bridge between residents and their families.
Lillian makes videos for her patients' families. Recently, a resident who recovered from COVID was moved back to his unit, and she facilitated a FaceTime call for him with his sister. A few days later, Lilian gave him a shave and haircut, and made a video of the big event to send to the sister. "Their families are relieved to see that they are okay," she says.
When another resident tested positive and was moved to a COVID unit, Lilian checked in with the unit staff twice a week to make sure the woman was okay — and to make sure the patient could FaceTime with her daughter and grandchildren.
The day after Easter, Lilian found out that sadly the woman was at the end of her life. Lillian called the patient's daughter, who thanked Lilian for giving her the opportunity to say goodbye to her mother. "Her daughter asked me to call other family members so they could say goodbye to her as well," says Lillian. "Not all families can do that."
For Lilian, COVID-19 has been another challenge that she could face with confidence, applying her skills and compassion to keeping her patients safe and in touch with their loved ones.