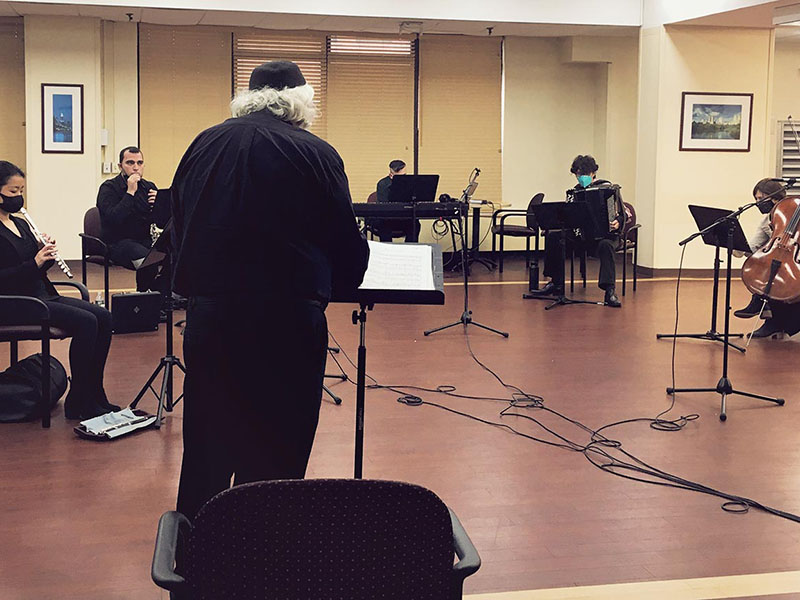 November 19, 2020
A special event on Thursday, November 12, brought together two groups of people who have been especially affected by the global pandemic: vulnerable older adults and performing artists.
Thirteen musicians from the cast of the Off-Broadway hit show "Fiddler on the Roof in Yiddish" reunited at The New Jewish Home's Kittay Senior Apartments, an independent living community in the Bronx, to play the iconic music from Fiddler.
"Fiddler on the Roof in Yiddish" was a surprise hit in 2018. Originally planned as a six-week run at the Museum of Jewish Heritage in Battery Park, it ended up moving uptown to the theater district and playing sold-out performances for a year and a half.
Over the show's run, the ensemble became very close, so when the musicians who were such an important part of the experience had a chance to work together again, they were enthusiastic about the opportunity.
The November 12th performance was made possible by a partnership between The New Jewish Home, AJAS and the National Yiddish Theater-Folksbiene, the longest running consecutive Yiddish theater in the world, which produced Fiddler in Yiddish.
In the spacious Kittay auditorium, the 13 musicians, socially distanced from one another, played instrumental music from Fiddler along with arrangements of some of the musical's familiar songs, like "Sabbath Prayer" and "Sunrise, Sunset." The auditorium opens onto the dining room, where 30-40 tenants were able to enjoy the live performance, at a safe distance from the musicians and each other.
The impact of this event will ripple far beyond the lucky tenants who were able to experience it in person. The performance was recorded, and the final, edited version will be available not only to all Kittay tenants but to residents at The New Jewish Home's Westchester and Manhattan skilled nursing facilities and other Jewish nursing homes around the country.
Oren Neiman, who played guitar and mandolin in the Fiddler orchestra, conceived of the performance as a way to provide some of New York City's talented, unemployed musicians an opportunity to work, while also providing joy to older adults and the essential workers who care for them.
"This is really the first time this group has come together since COVID," said Zalmen Mlotek, artistic director of National Yiddish Theater-Folksbiene and musical director of Yiddish Fiddler. "In these times, when we're all trying to figure out what we can do to stay active and relevant, it was very fulfilling for these musicians to come together to play for another population that has been hit hard by the pandemic."
Kittay Tenants Rave About "Fiddler on the Roof in Yiddish!"