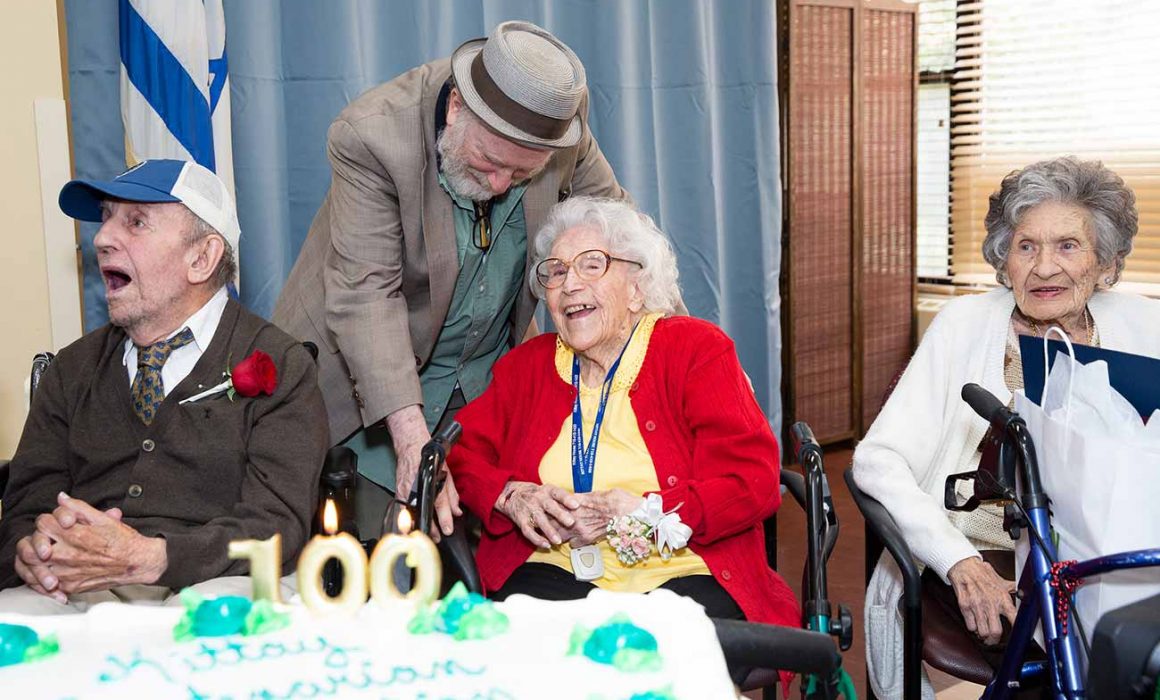 June 26, 2019
HAPPY 100TH BIRTHDAY – 14 TIMES OVER AT THE KITTAY SENIOR APARTMENTS!
The New Jewish Home Hosts the Birthday Bash of the Century at Kittay Senior Aprtments, Celebrating the Lives of 14 New Yorkers Who Turn 100+ this Year
(THE BRONX, NY – June 26, 2019) Together, these 14 special New Yorkers have lived more than 1,416 years. And, today, they celebrated turning 100 or older this year at the birthday bash of the century hosted by The New Jewish Home at The Kittay Senior Aprtments, a comprehensive, mission-driven health care system serving older New Yorkers since 1848.
All 14 centenarians, including actual birthday girl, Lucy Reavis who turned 100 today, were on hand for the party at The Kittay Senior Apartments – The New Jewish Home's independent living community in the Bronx.
The celebrants were joined by more than 100 family and friends for a giant cake, refreshments, music and gifts. Each received a beautiful silver-framed portrait of themselves taken by a professional photographer.
From home-grown Bronxites and Brooklynites, to immigrants from Russia, Hungary and the country formerly known as Czechoslovakia, the celebrants came from all walks of life. Included in the group were two World War II heroes, a pioneering marriage therapist who served as the first female President of the American Association of Marriage and Family Therapists, a garment district worker and a City employee who evaluated eligibility for assistance programs.
In his welcoming remarks, Jeffrey I. Farber, M.D., President & CEO of The New Jewish Home, "Congratulations to all of you for reaching this incredible milestone. Together you bring more than 1,400 years of life experience to share and it is a privilege to celebrate all that you have accomplished. We are thrilled that you continue to thrive and live lives filled with purpose at Kittay Senior Apartments. This event not only speaks to Jewish Home values of affirming dignity and extending welcome, it moves us closer towards our vision of a new reality in which ageism is no longer, and society embraces its older adult members."
Celebrating 100+ birthdays in 2019 were Kittay Senior Apartment residents:
Selma Ain – 103 years old
Vilma Beck – 100 years old
Max Benditch – 104 years old
Lillian Fraum – 102 years old
Anita Grossman – 101 years old
Blanche Hardbrod – 100 years old
Beatrice "Billie" Karchmer – 100 years old
Lucy Reavis – 100 years old
Mildred Ronin – 101 years old
Laura Singer-Magdoff – 102 years old
Gale Stein – 102 years old
Saul Volin – 101 years old
Miriam Wurzel – 101 years old
A 14th member of the Kittay community, aged 101, wished to remain anonymous
Prior to the celebration, the 14 centenarians participated in a survey conducted by The New Jewish Home. Asked their opinion of the biggest life-changing advancement in technology in their lifetime, responses included: the television; space exploration; computers; and the washing machine.
When questioned on the biggest historical surprise, "Donald Trump" got more votes than any other response.
Asked for the best advice they could give another, the wisdom of their years was evident:
"Live, laugh and be happy;" "Listen to what others say, you can always learn from somebody;"
"Be good to yourself;" and "Don't accent the negative, accent the positive."
102-year old marriage therapist, Dr. Singer-Magdoff, summed it up this way, "Understand who you are and try to strengthen yourself to make the good parts work. Ask yourself: How can I follow through by tuning into myself so that I can work for the greater good, and be effective to help other people have more fulfilled and satisfied lives? And, I'm still kickin! How about that!"
On hand for the celebration were NYS Assembly Member Nathalia Fernandez; NYC Council Member Fernando Cabrera; representing Congress Member Adriano Espaillat was Maximo Javier; District Manager for Community Board 7, Ischia Bravo; and from the NYC Department for the Aging was Ruth Cordero, Director of Senior Housing Initiatives/NORC– Bureau of Community Services.
The centenarians also received certificates of congratulations from NYS Senator Alessandra Biaggi and Bronx Borough President Ruben Diaz.
All of those celebrating their birthdays live independently at Kittay, a welcoming community located on a beautiful garden campus in The Bronx. Kittay Senior Apartments offers 295 studio and one-bedroom apartments with easy access to health care, dozens of on-site social, recreational, arts and educational programs. Meals and weekly housekeeping are included.
# # #
ABOUT THE NEW JEWISH HOME: Serving New Yorkers of all faiths and ethnicities, The New Jewish Home was founded 171 years ago. Its mission is to empower older adults to enhance purpose and well-being through a portfolio of innovative health care services. A comprehensive, nonprofit health care system for older adults, Jewish Home's care continuum includes short-term rehabilitation, long term care, adult day health care, geriatric care management and a wide range of home health programs. Jewish Home serves 10,000 older adults each year in their homes, on campuses in Manhattan and Westchester, and in senior housing residences in the Bronx. The New Jewish Home is a proud partner and founding agency of UJA-Federation of New York. For more information, visit www.jewishhome.org .
CONTACT: Colleen Roche LAK Public Relations, Inc. – croche@lakpr.com; 212-329-1413