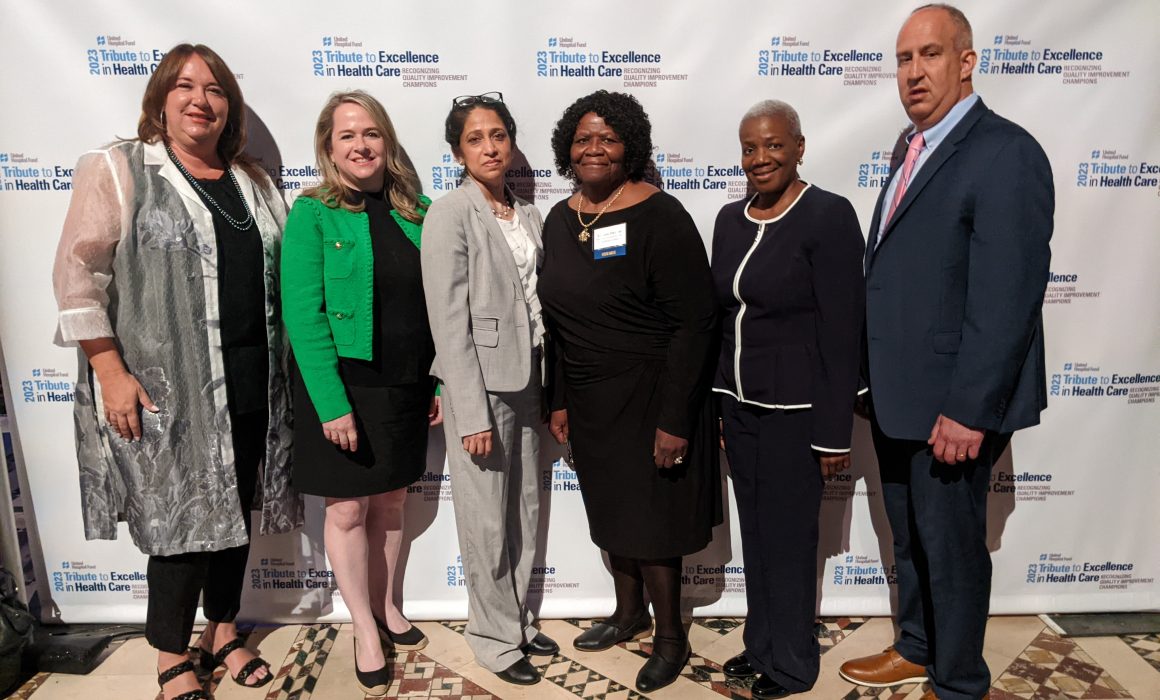 May 10, 2023
Leeada Durant
Leeada Durant is a nursing leader with nearly 50 years of experience, who joined The New Jewish Home (TNJH) system in 2003 as Assistant Director of Nursing (ADON) at TNJH's Westchester campus. In 2017, Leeada created the Sarah Neuman Nursing School Affiliation Program to train nursing students in providing excellent care to older adults while enhancing resident care and engagement. Leeada built the program on weekends and after work hours, partnering with local nursing schools and training 268 nursing students in 2022.
Apart from her contributions to the nursing profession, Leeada is recognized for her exceptional volunteer work helping underserved communities. She served as Vice President of her local chapter of the Chi Eta Phi nursing sorority, directing health fairs, screenings and clothing drives for communities in need. Leeada was honored with the Outstanding and Dedicated Service to Humanity Award from Chi Eta Phi and served as past President of the National Association of University Women, NY Chapter, assisting young women pursuing higher education. Leeada is also a member of the NYC Health-sponsored Bronx Multi-Faith Advisory Group, implementing wellness programs in the South Bronx.
Shiny Mathew
Shiny Mathew, a Nurse Practitioner at The New Jewish Home, has had a significant impact over the past 25 years, especially through her leadership in the heart failure program. Under her leadership, TNJH became the first skilled nursing facility in NY State to be accredited by the Joint Commission for congestive heart failure. Shiny serves as the medical lead in the interdisciplinary care team and head staff trainer on heart failure, and has played a pivotal role in creating the program's robust patient education program. She works closely with patients and their families to modify guidelines to their physical and cognitive abilities, and her research focuses on the effectiveness of nurse-guided, patient-centered heart failure education for older adults. Thanks to her dedication and skill, TNJH is equipped to serve patients on Milrinone or with LVADs, providing highly-specialized care to a diverse, underserved, and frail older adult population.
The New Jewish Home has a proud legacy of empowering older adults to live with purpose and enhanced well-being. We've been around since 1848 as one of the nation's first nursing homes, and are now serving older New Yorkers of all backgrounds through a portfolio of health care services, including post-acute care and rehabilitation, skilled nursing, adult day care, assisted living, and at-home care.
Photo Caption
From left to right: Sandra Mundy, TNJH Administrator/Senior Advisor to the President for Strategic Initiatives; Dr. Ruth Spinner, TNJH Medical Director, Shiny Mathew, TNJH Nurse Practitioner; Leeada Durant, TNJH Sarah Neuman, Assistant Director of Nursing; Marion Smith, TNJH Sarah Neuman, Director of Nursing and Laurence Abrams, TNJH Sarah Neuman, Administrator.