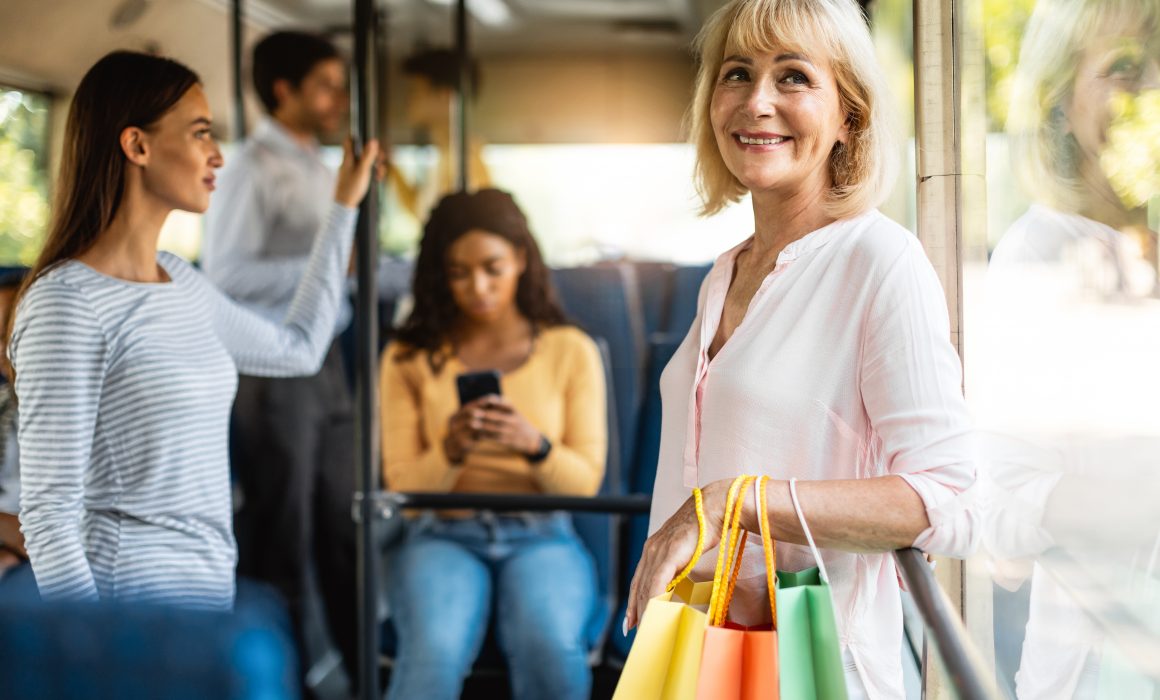 August 2, 2023
From the Bronx into Brooklyn through Manhattan and Queens, New York City is filled with energy and action, but navigating the concrete jungle can be challenging and expensive for older adults and seniors. To help, we're explaining transportation options for aging New Yorkers, including reduced-fare MetroCards, Older Adult Centers, Access-A-Ride, and more. Read on for tips and advice that can help you and your loved ones get around town safely, conveniently, and for less.
Reduced-fare MetroCard Discounts
The Metropolitan Transportation Authority (MTA) offers reduced-fare MetroCards to individuals aged 65 and up. The reduced fare is half the price of the standard base fare. Eligible riders can use their reduced-fare MetroCard on the subway and local buses anytime. During off-peak hours (before or after rush hour), cards can also be used on express buses, the Long Island Rail Road, and the Metro-North.
This discounted transportation option empowers older adults to explore what the city has to offer, visit family and friends, and take care of their needs with greater personal and financial independence.
There are three ways to apply for a Reduced-Fare MetroCard. New Yorkers ages 65 and older and individuals with disabilities can apply, when they:
Apply by mail, or
Visit the MTA website for more information and step-by-step directions on how to apply for a reduced-fare MetroCard.
Older Adult Centers
New York City has over 300 Older Adult Centers (OACs) that offer a wide range of free services and activities for adults ages 60 and over. In addition to healthy meals, classes and outings, fitness programs, and social services, OACs also provide transportation, organizing group trips to and from the OAC to grocery and retail stores, recreational and cultural events, and other destinations.
Some OACs even provide transportation for older adults to attend medical appointments if they don't have access to or cannot use public transit.
Visit the NYC Department for the Aging website to find your local OAC and see what services they offer. Joining is free and provides aging New Yorkers with new social connections and invaluable experiences that enhance their quality of life.
Access-A-Ride
If you or a loved one have a disability that prevents you from riding the subway or bus, you may be eligible for Access-A-Ride (AAR), a paratransit service providing shared-ride, door-to-door transportation for people with disabilities.
The service offers accessible, 24/7 rides to people with qualifying disabilities within the city's five boroughs at a $2.75 rate per ride.
To use Access-A-Ride, you must complete the four-step application:
Contact the AAR Call Center to schedule an assessment and determine if you qualify for AAR services.
After your call, and if you are eligible, you will receive an AAR application form by mail to complete.
Attend the physical assessment. (You can schedule an AAR ride to and from this appointment at no charge.)
A decision on your eligibility for Access-a-Ride will be mailed to you after completing the steps above.
Once an individual is deemed eligible for AAR services, booking trips is easy. You can schedule rides by calling their phone directory to set appointments with an agent, or you can visit the MY AAR website to schedule online. Users can create single-ride requests or subscribe to recurring rides at set times each week.
Home Care Services
While at-home care services typically provide medical support inside the patient's home, some also offer transportation assistance, including The New Jewish Home.
Our Solutions at Home® service ensures that aging adults have the care and support they need to stay safe, healthy, and comfortable at home – providing loved ones with valuable peace of mind. In addition to post-acute care and rehabilitation at home, we offer transportation support services that help older adults get to and from doctors' appointments, therapy sessions, and more. Contact us to learn more about The New Jewish Home's Solutions at Home®.