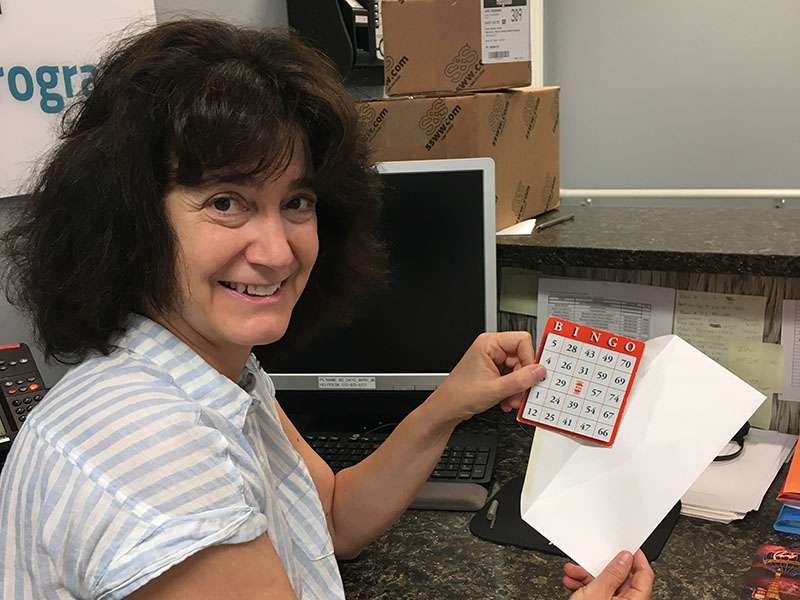 November 3, 2020
The Jewish Home's Telehealth program is providing much-needed companionship, health assessment and evaluation, and social services for Adult Day Health Care clients unable to attend the program in person during the pandemic.
For many years, Nathaniel Flores, 67, had a regular routine: Five days a week, the Vietnam veteran walked the two blocks from his apartment to The New Jewish Home's Manhattan campus where he would spend several hours at the Adult Day Health Care center, meeting friends, taking classes, getting counseling for his diabetes and having breakfast and lunch.
In mid-March, when the city went into lockdown, Flores' routine changed. Like hundreds of others who were regulars at our Manhattan or at our Bronx Adult Day Health Care Programs, his beloved home-away-from-home had been forced to close, and he found himself stuck in his apartment, alone.
In May, things started looking up for Mr. Flores and other day center clients when The New Jewish Home launched Telehealth — a phone outreach program that is filling a much-needed void. "For many of our clients, the day center was their home," says Susan Brown-Mandel, LCSW, Social Work Supervisor, who runs the Telehealth program with Lina Padilla, R.N. "The purpose of making twice-weekly group calls is to help clients — many of whom are fragile and isolated — feel connected and not forgotten."
For Sophia Martinez, 47, the program has literally been a lifesaver: "I'm bipolar, she says, "and living alone is depressing and scary, but on Mondays and Wednesdays at 1:30 p.m., I know I'm going to get a call. All morning I'm waiting." The call, from Spanish-speaking Ms. Padilla, connects a small group of clients who have since become friends. "One day I was having a really hard day. Then I got the call. I decided to open myself up to the group and talk about how I was feeling. They really supported me and after that, I felt much better."
The Telehealth program serves 70 clients whose services are funded directly through Medicaid, and who previously participated in person at the Bronx and Manhattan day center programs. Brown-Mandel explains, "While this is no substitute for the in-person experience, in some ways, because we are in touch with small groups on a weekly basis, this is more intimate."
The group telephone calls, conducted in Spanish on Mondays and Wednesdays and in English on Tuesdays and Thursdays, are supplemented with more frequent one-on-one check-ins for clients with special needs. "We have people who require assistance with chronic conditions like diabetes, congestive heart failure, renal failure, as well as depression," Ms. Brown-Mandel says. "When a client has suicidal thoughts, or we know that someone is out of medication we will call them and their health care providers. If we're expecting someone to be on the group call and they don't show up, we reach out to check in. We also have clients with developmental delays or dementia who require special attention."
While the group telephone calls provide mutual support on some weighty topics, a Tuesday afternoon "Brain Games" call is pure fun. Bingo, trivia games, current-events quizzes and more provide a few laughs and the mental and social stimulation that is so important for people who feel isolated.
Even the regular bi-weekly group telephone calls often take a lighter turn. "People help each other," Brown-Mandel says. "Some are more active than others. In a recent group, one member had been going to the Met Museum and he was encouraging others to go. Some are creative and are pursuing their art. Another tutors GED students, meeting them on a park bench." Sophia Martinez says she particularly enjoys it when the talk turns to music or food and she gets to share one of her delicious Dominican recipes.
As for Mr. Flores, "I'm not the type of guy to stay home and watch TV. The group asks me what I do to occupy my mind and I tell them I walk every day. That's my outlet. I'm also volunteering as a poll worker. But I'm a recovering alcoholic and I'll admit I sometimes feel depressed and lonely. The telephone calls help a lot. I look forward to those two days when I get to talk to other people."
While he is grateful for the Telehealth program, Mr. Flores can't wait for the center to reopen so he can return to his daily schedule. Susan Brown-Mandel echoes that sentiment: "People are always asking when the in-person programs will start again. I don't have a date, but like them, I am eager to see all those friendly, familiar faces again. Our clients are constantly telling us how much they miss us and each other."
Photo: Susan Brown-Mandel, Social Work Supervisor packs Bingo cards to be delivered via mail to Telehealth clients
The New Jewish Home has a proud legacy of empowering older adults to live with purpose and enhanced well-being. We've been around since 1848 as one of the nation's first nursing homes, and now serving older New Yorkers of all backgrounds through a portfolio of health care services, including post-acute care and rehabilitation, skilled nursing, adult day care, assisted living, and at-home care.
See how we continue to elevate health care for older adults through our Research Institute on Aging and our SkillSpring program (formerly known as Geriatrics Career Development program), which empower teens and young adults to begin careers in health care.