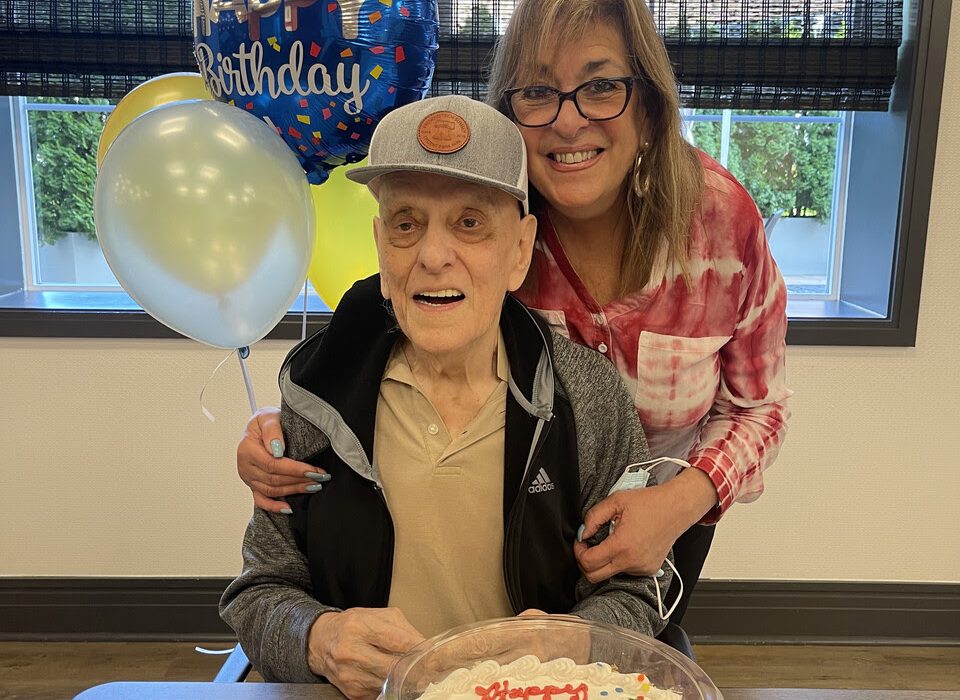 November 4, 2022
Rhonda's 93-year-old father needed rehabilitation therapy after a hospital stay. She chose The New Jewish Home, Sarah Neuman, in Westchester for the outstanding therapy, the warm welcome, and the homelike atmosphere.
When her 93-year-old father Nicholas needed rehabilitation after a hospitalization, Rhonda Ruiz chose The New Jewish Home, Sarah Neuman—and not just because the Westchester campus is right in her own community. Nicholas had previously done short-term rehabilitation there, for one thing and Rhonda was relieved to see that The New Jewish Home took a serious and professional approach to COVID-19 protocols. But most importantly, the cheerful, homelike atmosphere she found when she visited, along with the warm welcome she received, closed the deal.
Nicholas had been residing in an assisted living facility in White Plains when he was admitted to White Plains Hospital with sepsis secondary to a urinary tract infection. After his acute issue was resolved, short-term rehabilitation was recommended.
When he arrived, the staff member who admitted him recognized Nicholas from his previous stay a few years earlier. "I remember you, you like to play poker!" the staffer said. Rhonda was impressed.
Her father was weak and deconditioned after his hospital stay—"10 days of heavy antibiotics and not getting as much physical therapy in acute care as he would have in short-term rehab," she said. He could walk a bit, but not well enough to get around independently with his walker, as he had previously. He needed to learn how to feed himself again. And because he is on a pureed diet, he needed support from the speech and swallowing therapists.
Nicholas was evaluated by a team—speech pathologist, nurse, and case manager—who helped Rhonda decide what her goal for her father should be. "They worked with me to figure out whether he could return to assisted living or go into long-term care," she said.
"The therapists were very focused on giving him the specific assistance he needed," she said.
Rhonda's father is visually handicapped, so some of the features that attracted Rhonda to The New Jewish Home, Sarah Neuman, didn't matter much to him, but they certainly mattered to Rhonda and her family, who visited him frequently. "Once you get past the check-in desk, there's a lovely area that's very bright, and the gardens are beautiful." Rhonda was pleased that entertainment and other social activities were available to Nicholas and that he could have meals with other residents. "He's always been a very social man," she said.
After two weeks of intensive rehabilitation at The New Jewish Home, Sarah Neuman, Nicholas regained his strength and is back at his assisted living facility. "By the time he left, he was walking better with his walker and he was alert. I'm thrilled that he was able to adapt as quickly as he did. The transition was a good one."
Rhonda was very pleased with the treatment her father received, and she wants to make sure everyone who worked with him knows it. "I always like to acknowledge people. As a health care professional myself, I know that health care workers get burned out, especially after the past two years. This was a very positive experience for me and my family."
The New Jewish Home's award-winning short-term rehabilitation programs and post-acute care in Manhattan and Westchester help patients get well, go home and get back to doing what they love.
Our Manhattan campus offers three centers for specialty rehabilitation care, including our Orthopedic Rehabilitation Center in partnership with Mount Sinai Health System, our Cardiac Rehabilitation Center with NYU Langone Medical Center, and the Center for Speech, Language, and Swallowing Disorders. Learn more about The New Jewish Home's services and locations, including skilled nursing and adult day care.