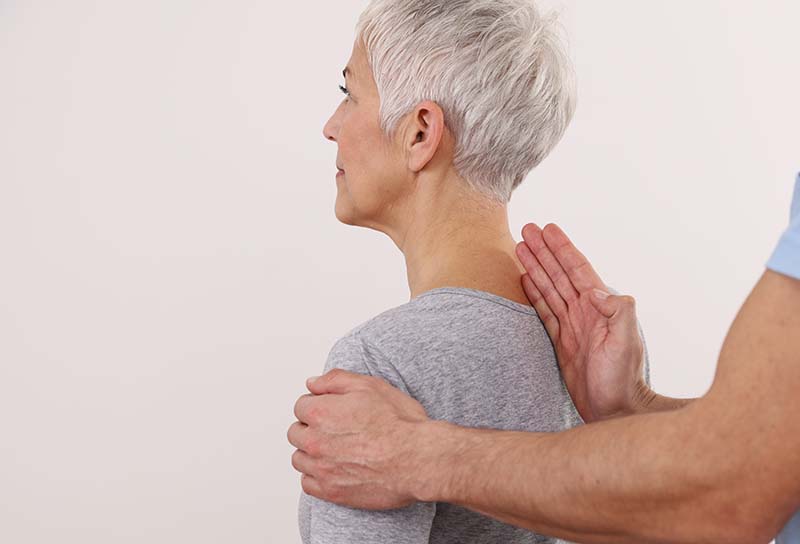 December 17, 2021
Chronic back pain plagued Marjorie for years. After she finally had surgery, a month of high-quality rehabilitation from warm, caring therapists at The New Jewish Home, Sarah Neuman put her on the comeback trail.
Years of back pain made Marjorie's life difficult. After two knee replacements, the time had finally come to tackle her chronic back pain with surgery. The youthful, active 66-year-old who works at a financial institution, couldn't wait to enjoy life again.
Marjorie decided to have spinal surgery this year, and for her post-surgery therapy she choose The New Jewish Home's Sarah Neuman campus in Westchester.
Marjorie was eager to regain her strength and enjoy the benefits she hoped the surgery would bring. She selected Sarah Neuman partly because it was convenient—her family and friends live in Westchester and would be able to visit her frequently. But she was especially enthusiastic about Sarah Neuman's partnership with the Burke Rehabilitation Hospital, which brings Burke's renowned rehabilitation expertise to Sarah Neuman.
Arriving at Sarah Neuman after her seven-hour surgery, Marjorie said, "I was in rough shape." After she was warmly greeted by her physical and occupational therapists, they provided a thorough assessment. Within a day, her therapy began and she was impressed with the quality of care she received. "The therapists were very warm and caring, yet strict," she said. "They pushed me, but that's good—you have to be pushed sometimes!"
At the very beginning of her stay, Marjorie was in so much pain that she could not sleep in her bed. "I'm a very independent person, and I don't like to bother anyone," she said, but she requested a recliner. No problem, the staff assured her—they were there for her. The recliner appeared, and followed her a week later from the precautionary COVID-19 quarantine floor to the rehabilitation floor. And every other request Marjorie made during her 28-day stay was fulfilled by the pleasant, accommodating staff. "They never made me feel like I was a burden to them."
She was upbeat about her visits to the therapy gym: "It was never crowded, like the gym at another facility where I had rehab after my knee replacement." When she wasn't working with her therapists, Marjorie enjoyed receiving visitors, relaxing, and visiting the beautiful gardens at Sarah Neuman.
Marjorie is back home now, working remotely and spending time with her children, grandchildren, and the nieces and nephews she helped raise. She's still receiving therapy and feeling optimistic about her recovery. "I'm grateful to the therapists at Sarah Neuman," she said. "They really put me on the road to recovery."


The New Jewish Home has a proud legacy of empowering older adults to live with purpose and enhanced well-being. We've been around since 1848 as one of the nation's first nursing homes, and now serving older New Yorkers of all backgrounds through a portfolio of health care services, including post-acute care and rehabilitation, skilled nursing, adult day care, assisted living, and at-home care.
See how we continue to elevate health care for older adults through our Research Institute on Aging and our SkillSpring program (formerly known as Geriatrics Career Development program), which empower teens and young adults to begin careers in health care.